Lake View Railing Projects
If you own lakefront property, you likely want a railing system that maintains your home's panoramic lake views. We were inspired to develop cable railing systems with simple, sleek, unique, and sophisticated styles when searching for a railing for our family home on Keuka Lake. We decided a cable railing was the best choice to maintain the views, however, at that time the style options were limited. Today, we expertly design, create and fabricate a variety of railing systems and then ship them right to your door.
Our custom cable railings achieve a minimalist appearance without sacrificing stability or durability. With high-quality materials and detailed engineering.
We design every railing to emphasize rather than distract from the building's natural surroundings. Our stainless steel cable infill allows near transparency when looking through the railing at the water beyond.
Keuka Studios has five signature post styles. In addition, there are hundreds of ways to customize your railing. We can mix and match materials, finishes, infill types, and top rail designs and mounting styles.
Railing Ideas For Your Lakefront Property
Curved Cable Railings – Adirondack Mountains, New York
Keuka Studios made a complete railing system for this secluded lakefront home. The deck overlooks one of the Adirondack's pristine lakes. In order to preserve the view of the shore, we built a modern curved Keuka Style railing. The railing features black powder-coated steel posts and a mahogany top rail. As a result, the railing fuses perfectly with the eclectic exterior design of the home that features wood, steel, and stone with curved rooflines.
Fascia and Surface Mounted Cable Railings – Cornell University in Ithaca, New York
We designed and built this deck cable railing for the Noyes Lodge at Cornell University. To fit the deck's existing structure, we customized the railing attachments. While the railing posts are fascia mounted on two sides of the deck, the lakefront side has surface-mounted posts. As a result, the railing seamlessly fits with the deck's existing structure. Furthermore, the cable railing maintains a peaceful view of the lake.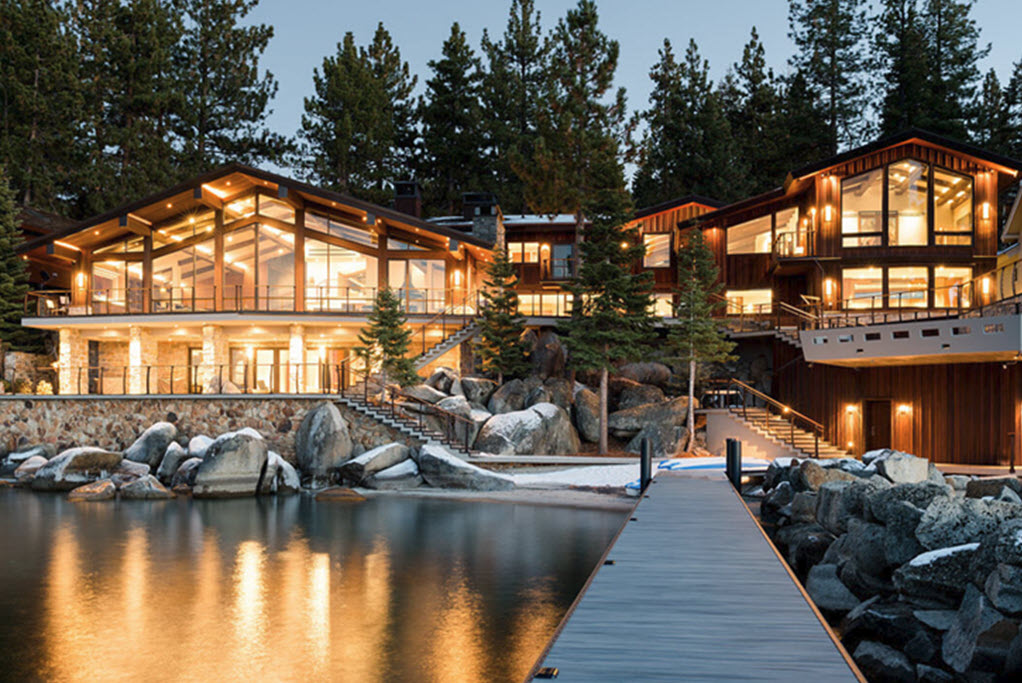 Stair, Deck, and Pool Railing – South Lake Tahoe, NV
Our Keuka Style curved wire rope cable railing system wraps the decks, stairs, and pool deck of this unique home in South Lake Tahoe. Known as Villa Harrah the home has a rich history of entertaining celebrities. To maintain the panoramic views of the lake our Keuka Style cable railing system was chosen for the exterior of the home.
Keuka Style Curved Cable Railing – Big Bear, California
This concrete deck overlooks Big Bear Lake and the San Bernardino National Forest. To match the deck's curved shape, the client chose our curved Keuka Style railing posts. Both the posts and the top rail are "Silver Vein" powder-coated steel.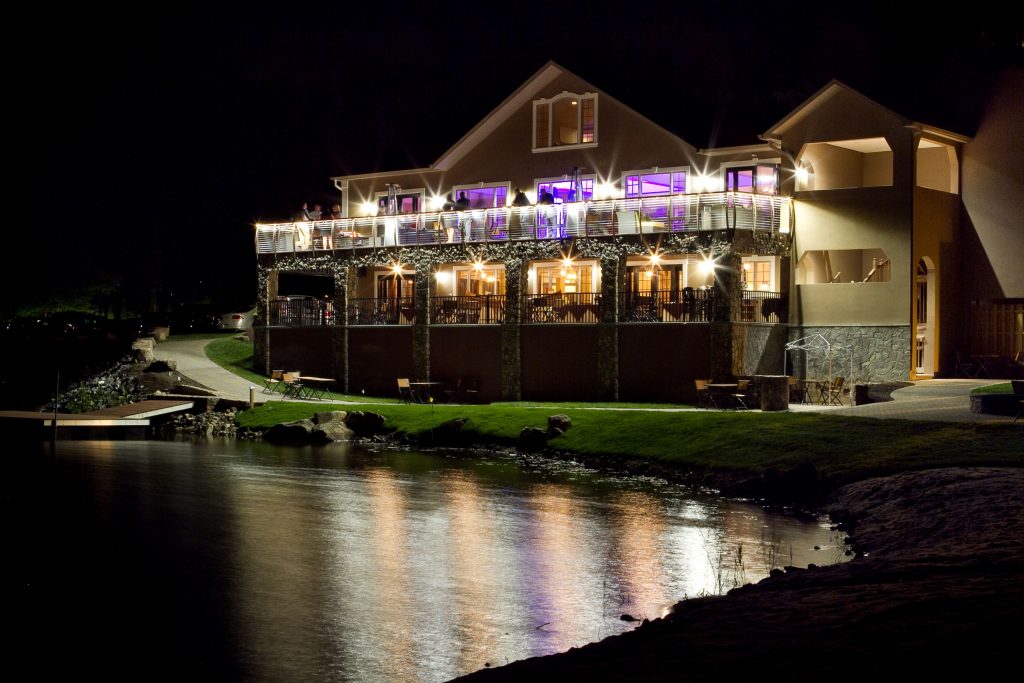 Deck Railings at Wedding Venue – Jefferson, New Jersey
The Rock Island Lake Club hosts picturesque wedding ceremonies and receptions. Keuka Studios designed a railing system for the outdoor lounge area that overlooks the lake. The minimal yet elegant design of the Keuka Style posts gives the space a luxurious and open feel. Coupled with the outdoor furniture and heaters, the cable railing makes the deck the perfect space for nighttime celebrations.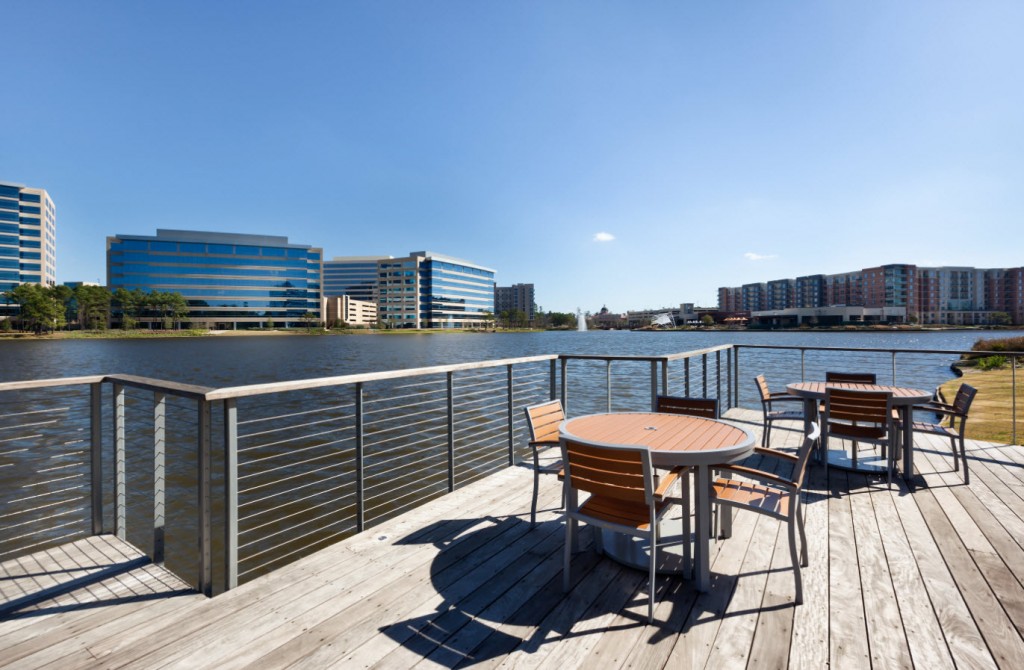 Expansive Deck Railing – The Woodlands, Texas
This mixed-use development has 10 lakeside buildings ranging from shops to offices. The development features a deck with a seating area perfect for a midday meal. Keuka Studios completed the deck by crafting a minimalist cable railing. In order to match the lake scenery and preserve the view, we designed an Ithaca Style railing with "Sparkle Silver" powder-coated steel posts.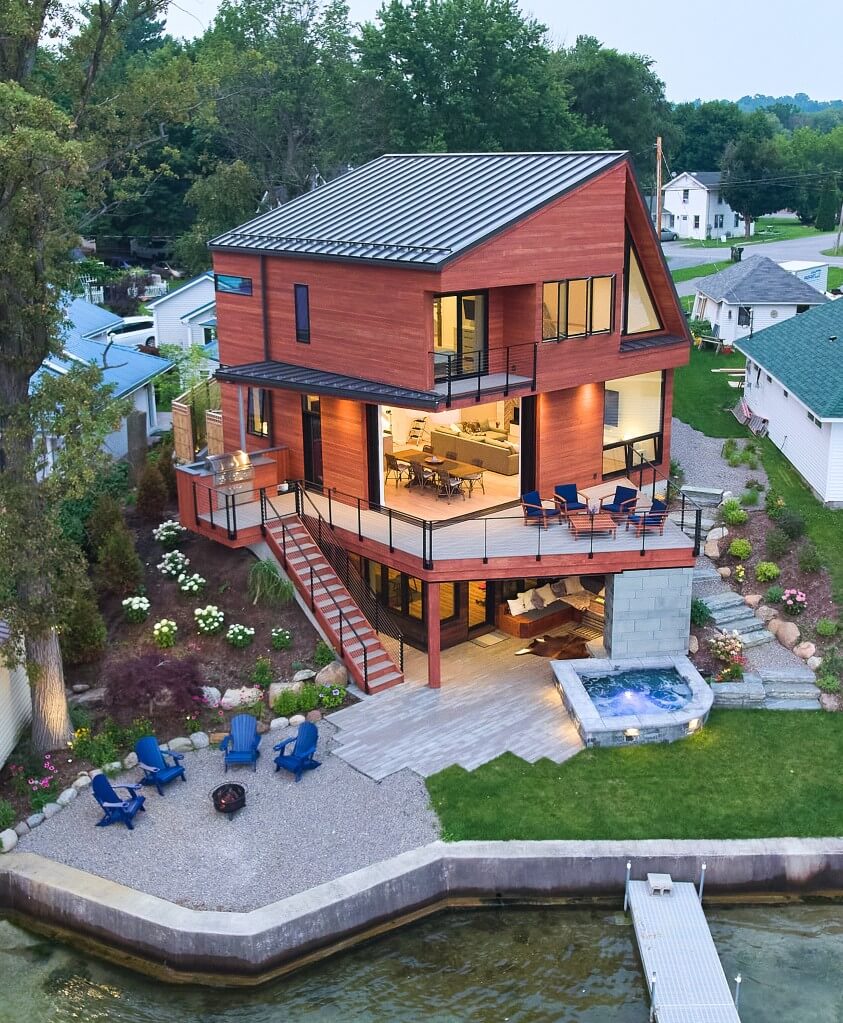 "Open House" Deck and Stair Railings – Conesus, NY
Known as "Open House" for its unique zig-zag architecture with open walls and an abundance of windows. This home is designed to allow for the flow of lake breezes throughout the home and easy indoor-outdoor living.
The exterior railings are our Ithaca style with a sleek steel top rail. The railing posts are powder-coated "Raven Texture Black" and fascia mounted to the deck and stairs.
Every Keuka Studios design project is custom-built for your space. To learn more about how each cable railing project moves from vision to reality, take a look at our custom railing design process. We take pride in building craftsman-quality and commercial-grade cable railings for interior and exterior applications.