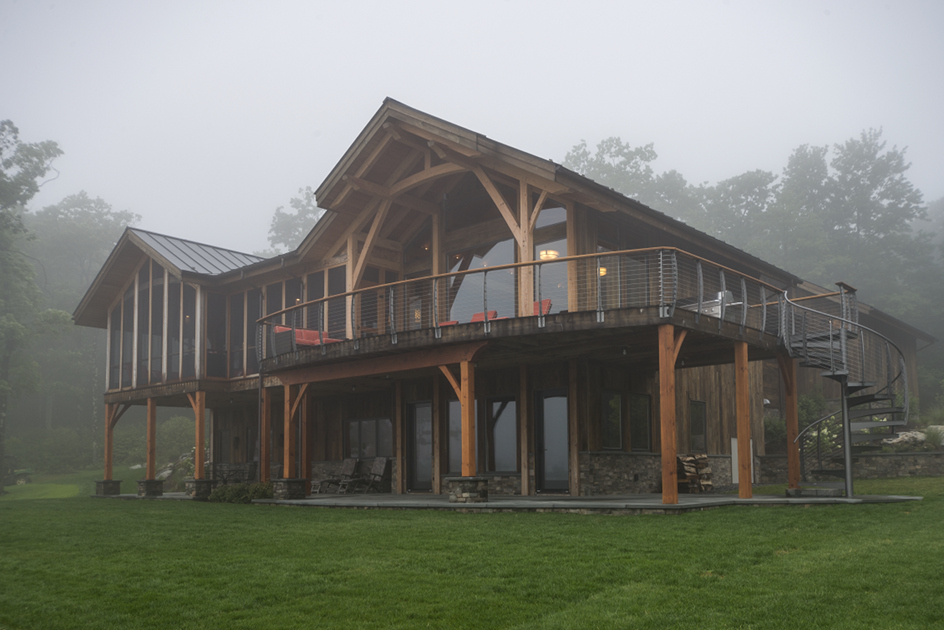 When it comes to stair design, you don't have to choose between form and function. At Keuka Studios, we design and build spiral stairs that can add visual interest to any home while optimizing the use of space. Our spiral staircases save square footage with their compact design and are also sturdy, safe, and stylish. Due to their slender, helical structure, spiral stairs fit nicely into small spaces. This makes them perfect for the corner of a room, an outdoor deck, a compact apartment, or any space that's hard to reach. For example, many people with lofts use spiral stairs as a means of access. In all of these situations, spiral stairs conserve space, leaving more room for furniture and decor.

Furthermore, spiral staircases can give your home an architectural focal point. Spiral stairs have a luxurious feel and can serve as a sculpture-like work of art. The graceful curve of a spiral stair gives the staircase a sleek and sophisticated look. Keuka Studios offers a wide variety of materials and finishes for both spiral staircases and their accompanying railing systems. Through our detailed design process, we work with clients to create customized spiral stairs that complement the existing architecture of their homes.
Ideas for Spiral Staircases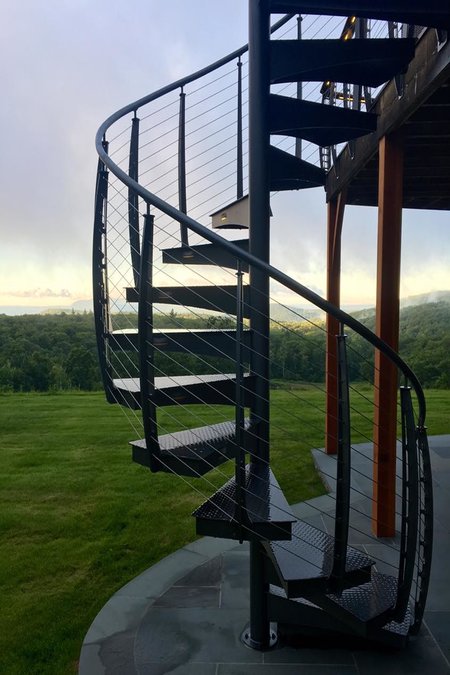 1. Outdoor Spiral Stairs
Keuka Studios designed this exterior spiral staircase for a home with beautiful mountain views. The homeowners chose a "Dazzling Pewter" powder coat for the steel center pole, treads, railing posts, and top rail. For added safety, we used diamond-textured top plates on the stair treads and incorporated LED lights on each riser.
2. Compact Spiral Staircase
The owners of this traditional Nantucket home wanted to add a staircase in the home's entryway but had limited space to work with. Keuka Studios designed a compact custom staircase to connect the entryway to the upper-level loft. To match the flooring and doors, the homeowners chose black powder-coated steel for the stair railing and center pole and wood for the tops of the pie-shaped treads.
3. Deck Spiral Stair
This home in Sagle, Idaho features two levels of decks that overlook Lake Pend Oreille. Keuka Studios designed a Keuka Style cable railing system for the decks, and the homeowners wanted the connecting staircase to match. We designed a "Gamblers Gun Grey" powder-coated steel spiral staircase and cable railing system. The curved railing posts perfectly complement the helical curve of the stairs.
4. Condo Spiral Stair
The objective for our client in Jupiter Florida was to maximize their living space by creating an open spiral staircase to the upper-level loft. The stairs are custom made to fit the space with our curved Keuka Style cable railing system. The stairs are "dazzling pewter" powder-coated steel.
Interested in a spiral staircase with cable railing? Take a look at our custom design process or contact us for more information.