Double Stringer Stairs and Spiral Stairs – Nantucket, MA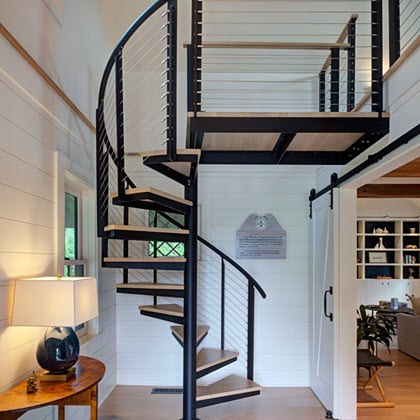 Location: Nantucket, Mass
Builder: Design Build Firm - S. M. Roethke Design, Inc.
Architect: Design Build Firm - S. M. Roethke Design, Inc.
Material and Finish: Spiral stairs and custom landings made of powder-coated steel with 316 stainless steel cable railings. The treads and landing are white oak that is finished to match the flooring. The double stringer stairs leading to the lower level have custom steel tapered railing posts with a "T" shaped cross section. The spiral stair, steel stringers, landing structures, and railing posts are all powder coated the same color "Raven Texture Black".
Description: The historic Telegraph House in Nantucket was in need of renovating and increasing the living space. This project included a spiral stair with a landing for the small entry and a doglegged double stringer stair with a landing leading to the lower level. Cable railings wrap both of the staircases, the stairwell, and the loft balcony.
Notes:
SM Roethke Design, Inc. contacted us to design and build two staircases with cable railings for their renovation project for the Telegraph House in Nantucket. The goal of the project was to maintain the integrity of the original historic structure while updating it to a livable space and increasing the square footage. The front entry did not have the space needed for a traditional staircase to the upper story loft, so we collaborated to come up with a spiral staircase and landing that would fit the requirements.
The newer section of the home needed a staircase to access the lower level. The client chose a double stringer floating stair with a landing close to the top having a right-angle turn to descend the stairs to the lower level. The idea was to have wood and steel combined to create a modern look with a touch of an industrial feel. To accomplish this a custom railing post was designed with a "T" shape that tapered towards the top of the post.  The hardware was left exposed hinting at an industrial style while still having a refined appearance. The result, a beautiful home, and a happy customer!
Photography by T.G. Olcott Photography
Request A Quote