Pedestrian Bridge – Orlando, Florida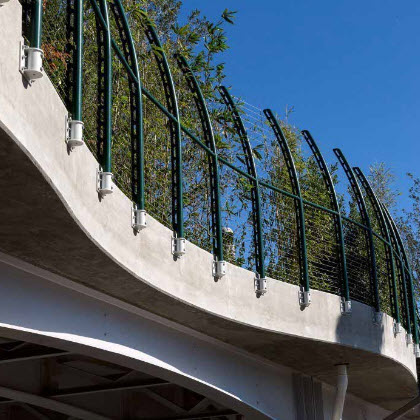 Location: Orlando, FL
Builder: Johnson Bros Corporation — Orlando, FL and Hills Fencing — Lake Helen, FL
Architect: Universal Creative, Universal Studios — Orlando, FL
Material and Finish: Hot-dip galvanized and powder-coated steel cable fencing with 3/16" diameter stainless steel cables.
Description: Modular flyover pedestrian bridge cable railing fence.
Notes:
When Universal Creative approached us about this project, we were excited to accept the challenge of doing something new. The modular cable fence encloses the pedestrian bridge that crosses the four-lane highway (Hollywood Way) to connect the Universal Studios Orlando park and the Universal Studios Orlando hotels.
Because of the high-traffic location, safety was our number one concern while we designed the barrier. To maximize the security of the flyover pedestrian bridge, we designed the fence posts to be almost 10 feet tall and to curve inward at the top. Furthermore, the cable infills are tightly spaced together such that large loose items cannot pass through.
The greatest challenge for this project was accommodating the unique curvature and elevation changes of the existing bridge. To do so, we had to customize the shape and height of each individual post. Since the variation between each fence post is slight, it was important that we meticulously cut and labeled each piece of the fence.
Because of the temperate environment in Orlando, we had to use materials that can withstand frequent heavy rain and wind. Each post was powder coated and hot-dip galvanized to prevent corrosion. Universal Creative chose a green powder coat for the fence posts to match the palm trees and other greenery that surround the highway. For the infill, we used 3/16″ diameter stainless steel cable.
Request A Quote