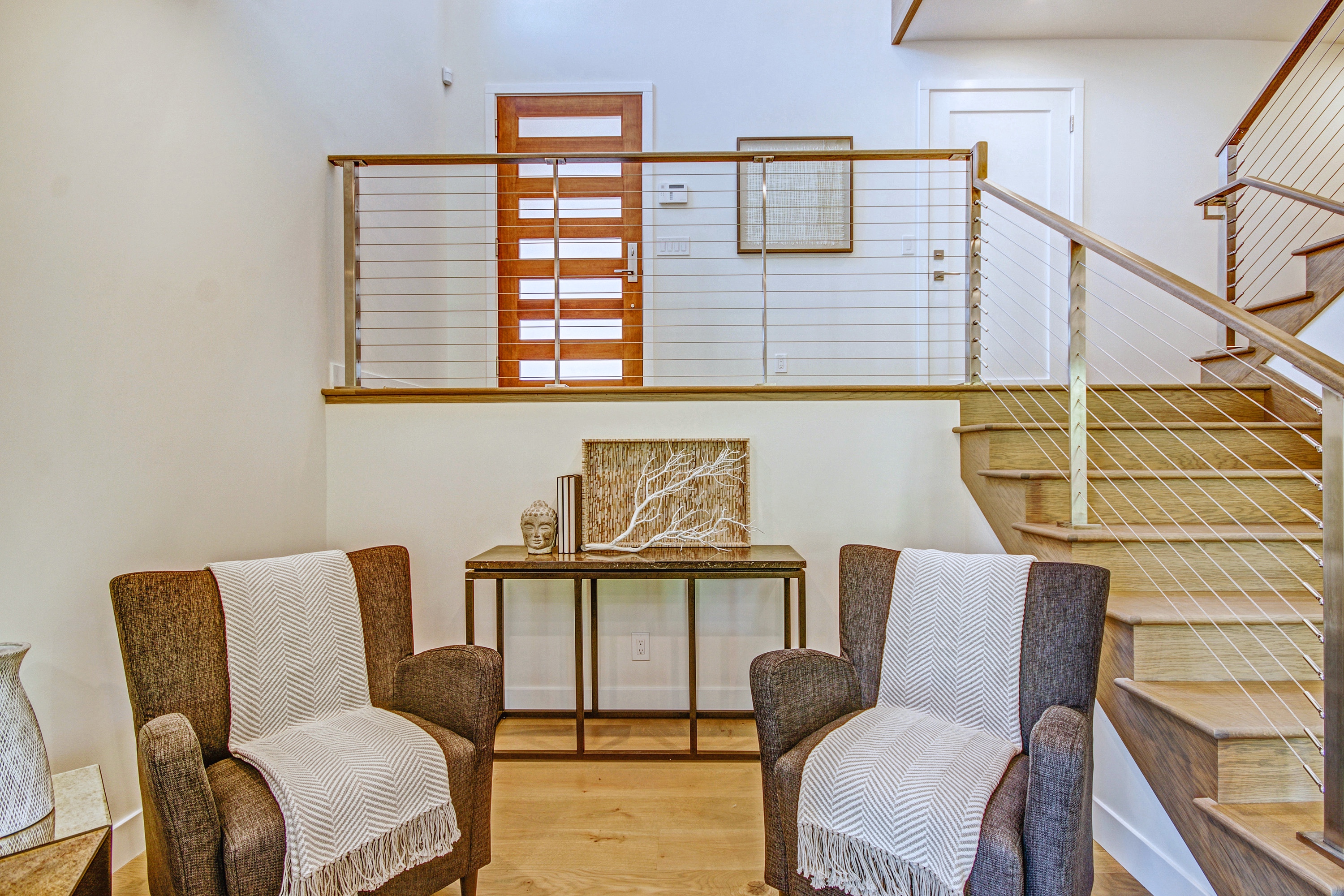 From sandy beaches to snow-covered mountain peaks, the state of California has it all. With the state's geographical diversity comes a large variance in architectural styles. In California, you'll see everything from modern mansions in Bel Air to rustic cabins on Lake Tahoe. Keuka Studios designs and builds cable railings that complement almost every style of architecture. Because our cable railings have a minimalist design and we offer various options for customization, we can craft the perfect railing system for any home. For design inspiration, take a look at a few of our completed projects across California.
Ideas for California Cable Railing Projects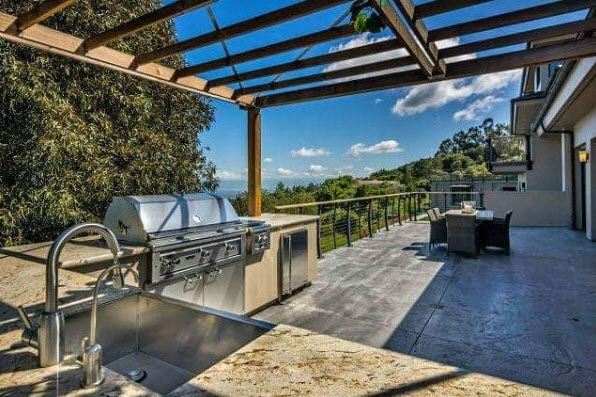 Deck Dining Cable Rail – Los Gatos, CA
Our clients in Los Gatos wanted to create the perfect outdoor space for cooking and dining. To optimize the functionality of their deck and to create a luxurious atmosphere, the homeowners created a kitchen area with stainless steel appliances and quartz countertops. The large deck is enclosed by a Keuka Style cable railing system with black powder-coated steel posts and a wood top rail.
Glass and Cable Railing – Santa Cruz, CA
Situated in Santa Cruz, this client opted for our Ithaca Style cable and glass railing system, appreciating its sleek, contemporary design and adaptability. The cable railing enables unhindered vistas and encourages free-flowing natural breezes. While the frosted glass panels act as a windbreak, and create a private area. The railing was tailored to different heights to seamlessly connect with the partial walls. Moreover, the railings were skillfully designed to accommodate both fascia mounting and surface mounting, depending on the specific application.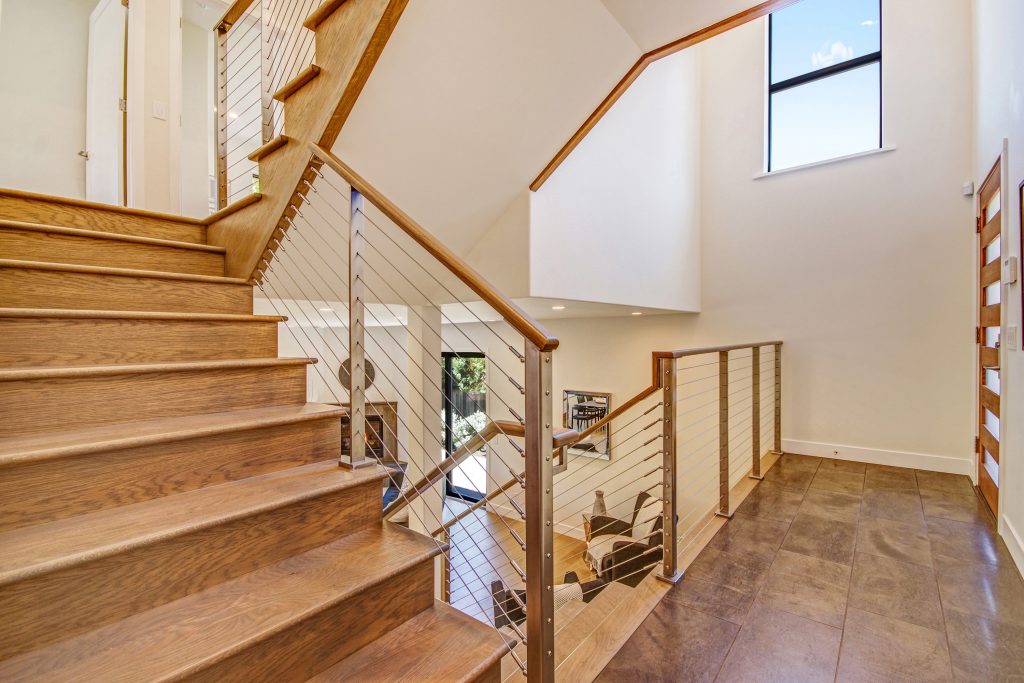 Stair Cable Railing – Mill Valley, CA
Located in Mill Valley, this contemporary California home features our Ithaca Style cable railing throughout its interior. The home's open-concept design brightens the space by allowing natural light to enter through the windows and spread all throughout the main room and hallways. To preserve this open space, the architect chose cable railing for the stairs and balcony. Our team designed an Ithaca Style railing system with an oak wood top rail that matches the natural materials used as accents throughout the house. Also, to give the railing a minimalist appearance, we crafted custom escutcheon plates that conceal the mounting hardware.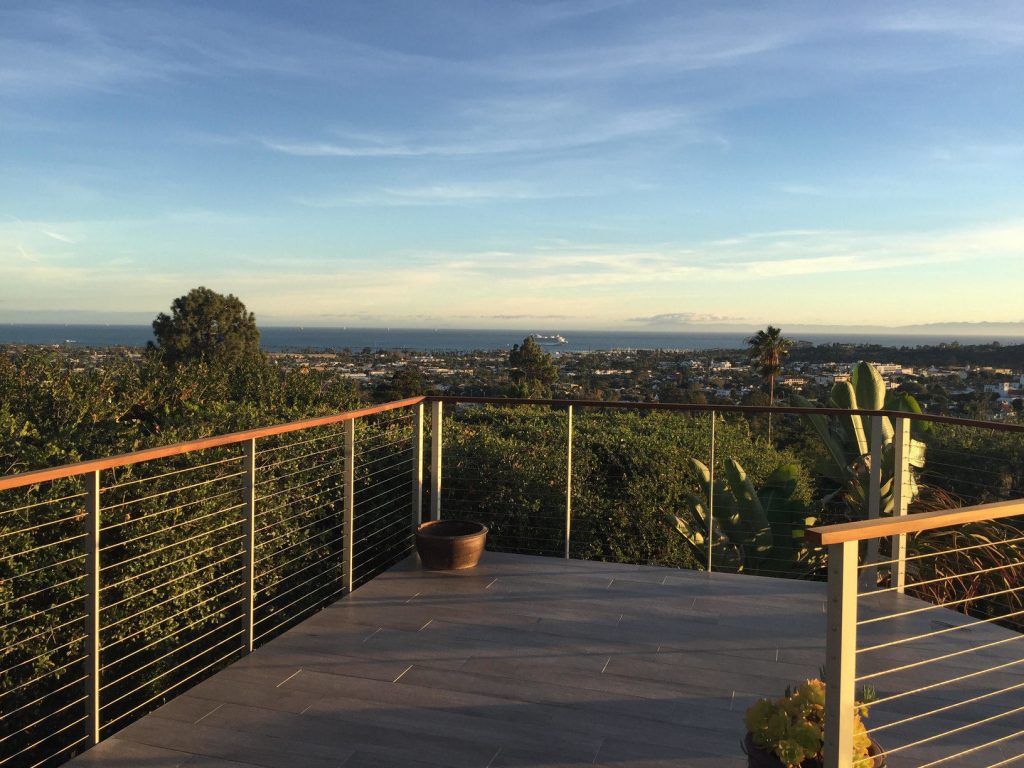 Cable Deck Railing – Santa Barbara, CA:
With an incredible view of the mountains and coastline, this Santa Barbara home features a luxurious outdoor living space. When our client renovated their home, they wanted to replace their exterior railing system with a more contemporary style. The homeowner opted for cable railing to create a modern feel and to optimize the views from their expansive deck. For the railing, they chose fascia-mounted anodized aluminum railing posts and an IPE wood top rail.
Cable Railing – Big Bear, CA:
This mountain home has an incredible view of Big Bear Lake and the San Bernardino National Forest. To make the most of the home's prime location, the architect designed a large concrete deck that curves around the front of the house. For the deck, the homeowners wanted an unobtrusive railing. To meet their needs, we crafted a custom Keuka Style cable railing system that curves with the contour of the deck. Our team used "Silver Vein" powder-coated aluminum for the posts and top rail. As a result, the railing has a sleek design that matches the home and preserves the stunning mountain view.
Every Keuka Studios design project is custom-built for your space. To learn more about how each cable railing project moves from vision to reality, take a look at our custom railing design process. We take pride in building craftsman-quality and commercial-grade railings for interior and exterior applications.