Cable and Glass Railing – Santa Cruz, CA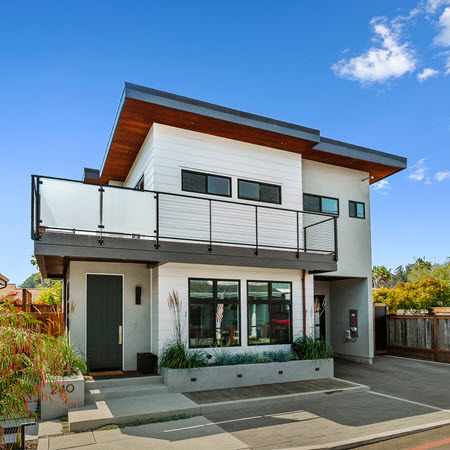 Location: Santa Cruz, CA
Builder: Collective Real Estate Development, Santa Cruz, CA
Material and Finish: The Ithaca Style Railing system was crafted to be fascia mounted on the upper level balcony and surface mounted on the partial walls of this modern home. This unique railing combines stainless steel cable and frosted glass elements to create a variety of outdoor environments. The railing posts and top rail are made of aluminum and powder-coated "raven texture black". The Interior stair cable railing system features a framed design and is surface-mounted onto the wood stair treads.
Description: This project consists of custom designed and fabricated railing posts that seamlessly integrate cable and glass railing system for the exterior decks and half walls. In addition, the cable railing on the interior stairs has the same Ithaca style posts as the exterior with an added framed aesthetic.

Notes:
Collective Real Estate Developers choose the Ithaca-style cable and glass railing system for its modern design that perfectly complements the architecture of this unique home with sleek lines and a flat roof. This distinctive railing harmoniously integrates cable and frosted glass components, offering a versatile range of environments to enjoy in the outdoor spaces. The cable design facilitates unobstructed views and enables the natural flow of breezes, while the frosted glass provides privacy and shields against the wind. The railing height on the exterior was individually tailored to the varying heights of the half walls. The interior design seamlessly merges modern, airy spaces with inviting rustic wood accents. The framed cable railing on the stairs perfectly complements this design aesthetic.
Cable and Glass Railing
In certain areas, the exterior railing system is fascia mounted, while on the half walls, it is surface mounted. The consistent styling of the railing posts maintains a cohesive look with the varied infill options of cable and glass.  The interior railing system is surface mounted with a metal frame style and stainless steel cable infill. The entire railing system is made of solid aluminum posts and powder-coated.
Request A Quote
Ithaca Style Cable Railing