Lighthouse and Decks – Grand Rivers, Kentucky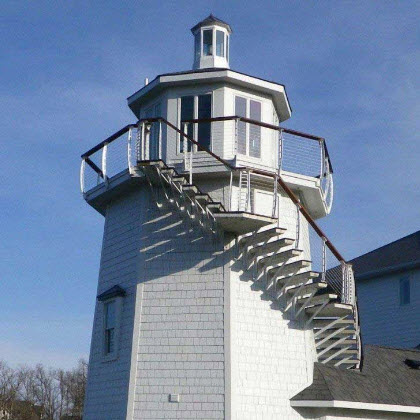 Location: Grand Rivers, KY
Material and Finish: White powder-coated steel posts with wood top rail.
Description: Keuka Style cable railing.
Notes:
Our client in Grand Rivers, Kentucky owns a beautiful lake house attached to a white lighthouse. The home features a ground-level outdoor living space, an exterior staircase, and two tiers of covered porches. The lighthouse has an observation deck and a wraparound staircase. When the homeowners approached us about fabricating a complete railing system for the property, we recommended our nautical Keuka Style design. To match the home's exterior, the homeowners chose a dark wood top rail and a white powder coat for the railing posts. As a result, the house and lighthouse have a clean and cohesive look.
Request A Quote
Keuka Style Cable Railing