Landscape with Ithaca style cable railing – Syracuse, New York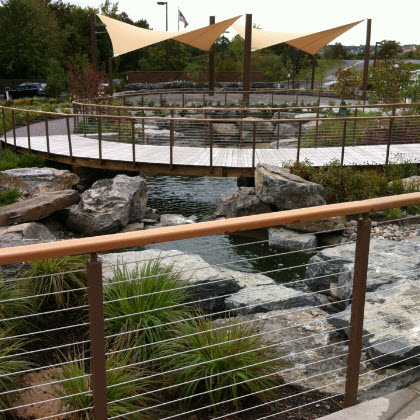 Location: Syracuse, NY
Builder: Zoladz Construction – Alden, NY
Architect: EDR Companies – Syracuse, NY
Material and Finish: Powder coated "seal skin brown" steel posts with IPE Brazilian Walnut wood top rail.
Description: Ithaca Style cable railing custom made with longer posts to be buried into the concrete. This landscape with the Ithaca style cable railing creates a peaceful place to take a walk.
Notes:
The newly remodeled Rosamond Gifford Zoo South entrance is a lush oasis and includes a bridge, water feature and sail shades to keep patron cool while waiting for their ride. The walkway and bridge meander through the garden and create a peaceful relaxing space with the sound of a babbling brook. Our Ithaca Style railing was the selected for the project for its transparent properties. Since site was organically shaped, we created a custom, pivoting top plate to handle the changes in the terrain. The railing posts were made extra long so they could be buried into concrete. Each post on the bridge had to be custom made to connect to the underlying bridge structure which did not follow the curve of the deck surface. For the color of the posts the zoo selected "seal skin brown" which works well with the IPE wood hand rail and blends naturally with the surroundings. A lockable pedestrian gate allows service access to the water feature.
Request A Quote
Ithaca Style Cable Railing