Split Staircase Cable Railing System – Richmond Hill, GA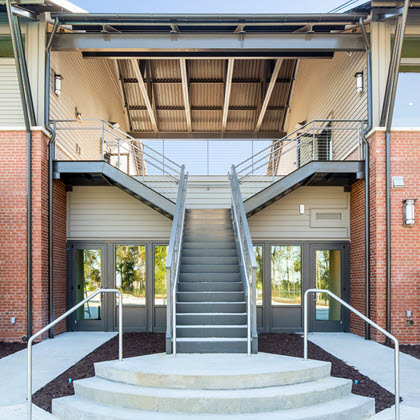 Location: Richmond Hill, GA
Architect: Architecture + Planning + Interior Design - Dasher Hurst
Material and Finish: Solid Aluminum powder-coated posts in our Ithaca Style. Made with 316 stainless steel cable and fittings. The cable is 3/16th inch diameterter and the posts are custom made to meet the required 42-inch height. The ADA handrails are made of 316 stainless steel.
Description: Keuka Studios Ithaca Style Commercial Cable Railing at 42 in height for 3 staircases and several balconies.
Notes:
The Bryan County boat launch facility is located along Redbird Waterway. It boasts direct access to the Intracoastal waterway, the Great Ogeechee River, and the Atlantic ocean. This state-of-the-art full-service facility features boat launches, boat storage space, an expansive pool, and many additional amenities. Keuka Studios worked with Dasher Hurst to custom fabricate the solid aluminum commercial cable railing system. Made in our Ithaca Style which has slim posts, allowing for maximum water views. The railing system was custom-made for the grand entrance split staircase (aka bifurcated stairs) as well as two additional staircases. Creating synergy throughout the building our commercial cable railing system is used on all of the building's balconies, including a custom-sized railing for the concrete wall to maintain the water views and reach the required railing height. The ADA-compliant handrails are made of 316 stainless steel, and the top rail is powder-coated aluminum. The balcony railings are fascia mounted and the stair railings are surface mounted to the c-channel with custom escutcheon to conceal the hardware.
Request A Quote
Ithaca Style Cable Railing