Pool Deck and Bridge Cable Railing-Kauai, HI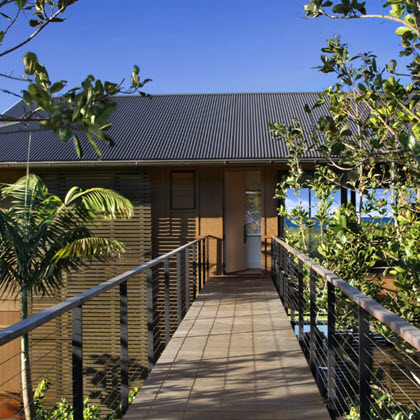 Location: Kukui'ulai, Kauai Island
Builder: Kukui'ulai Kauai
Architect: Olson Kundig
Material and Finish: The Ithaca Style Railing is made of Solid Aircraft Aluminum at a 36-inch height and fascia mounted for this project. The railing posts are a custom powder-coat color "Rustic Red" with 1/8th inch stainless steel cables.
Description: Ithaca style cable railing system we custom fabricated for a perfect fit on the exterior bridge, and pool deck of this beautiful Hawaiin home.
Notes:
Olsun Kundig, the architecture firm for this project drew their inspiration for this home from the architecture of the Polynesian Islands. They created a pavilion-style home that allows for panoramic views of the ocean for this homesite at Kukui'ula range. Keuka Studios collaborated with Olson Kundig Architects to design and fabricate the cable railing system for the bridge, pool decks, and balconies.  The home is nestled on the side of a lush mountain with the main entrance of the home located on the mountainside.  Since this posed some challenges for accessing the entrance to the home, a walking bridge was considered to be the best solution. The Ithaca Style cable railing posts were selected for the walking bridge and to surround the pool deck.  The posts have a slim appearance allowing them to maintain visual harmony with the ocean views and garden landscape.  A custom powder-coat color was chosen for this project to complement the home's architecture and landscape.  We made the railing of aluminum and powder coated "rustic red" with stainless steel cables and wood top rail.
Request A Quote
Ithaca Style Cable Railing