Double Stringer Staircase – Weston, CT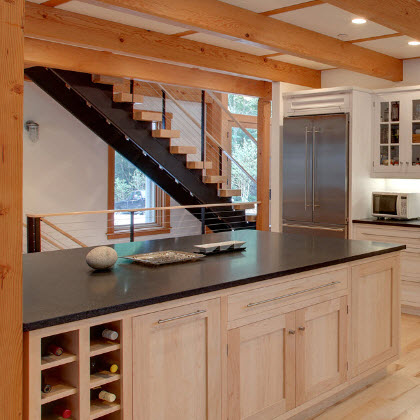 Location: Weston, CT
Builder: Timberdale Homes – Bethel, CT
Architect: Bensonwood Homes – Walpole NH
Material and Finish: Steel stair stringers and maple treads. Powder-coated "Raven Black" steel railing posts with a maple wood top rail.
Description: Steel double stringer stair with our Ithaca Style cable railing.
Notes:
Our clients in Weston, Connecticut own a charming timber frame home with exposed Douglas fir beams. The homeowners wanted to replace their existing staircases with more modern stairs that would better suit the casual elegance of the home. To achieve a custom look, they turned to Keuka Studios to design and build two staircases and a complete railing system. 
The home features spacious, open rooms and an upper-level catwalk that overlooks an immense Tulikivi soapstone fireplace on the first floor. To match the open feel of the home, our clients wanted floating staircases with minimalist railings. We designed two nearly-identical staircases that sit one on top of the other and include our Ithaca Style cable railing.  We believe that cable railing fits perfectly with the home's rustic architecture.
Both staircases have double stringers forged from steel rectangular tubing. The staircases are both visible from the home's luxury kitchen, so the homeowners chose a stinger finish that would match elements of the kitchen. They selected a matte "Raven Black" powder coat that complements the black quartz kitchen counters. 
Furthermore, the homeowners wanted stair treads that would match the home's heavy Douglas fir beams. They chose thick treads made from solid 16/4 maple. Each tread has a baked high-performance varnish that protects the wood from wear and tear. In order to support the thick treads and to create a cohesive look, we welded laser-cut tread supports to the stair stringers.
In addition to the double stringer stairs, Keuka Studios designed and fabricated a complete cable railing system. The railing runs along both staircases and the upper-level balcony. The Ithaca Style railings feature black powder-coated steel posts, stainless steel cable infill, and a maple top rail. As an added detail, we designed the intermediate posts on the staircase railings to slice the edge of the treads, creating a knife handle effect. Also, wherever possible, we used lag cable fittings to connect the railing infill directly to the timbers of the home. 
Request A Quote
Ithaca Style Cable Railing