Cube House Cable Railing System – New Canaan, CT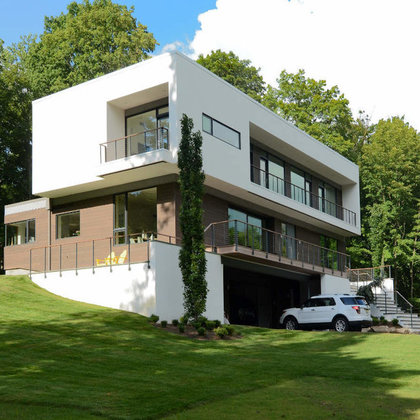 Location: New Canaan, CT
Architect: evoDOMUS LLC - Cleveland Heights, OH
Material and Finish: "Viking Grey" powder-coated solid aluminum posts and wood top rail.
Description: Custom prefabricated energy-efficient cube house with our Ithaca Style posts for an exterior staircase and multiple decks. Photos by Christian Philips and Alexander Kolbe.
Notes:
This cutting-edge cube house with cable railing has a modern appeal and gorgeous views of its surrounding woodland. The architects at evoDOMUS designed this residence with the environment in mind. A major element of energy-efficient architecture is harnessing natural sunlight and letting it flow throughout the home. In order to achieve this, the architects employed floor-to-ceiling windows and cable railing systems that allow the passage of light. For this purpose, they chose our Ithaca Style cable railing which has a slender yet sturdy post design.
The exterior cable railing system encloses a large two-tier deck, a second-story balcony, and a staircase. Keuka Studios designed the railing with "Viking Grey" powder-coated solid aluminum posts and a wood top rail. To ensure that the railing system would fit perfectly with the prefabricated home, we used 3D laser scanning to measure the job site before designing the railing.
Request A Quote
Ithaca Style Cable Railing