Interior Multi-Story Stairs – Nantucket, Massachusetts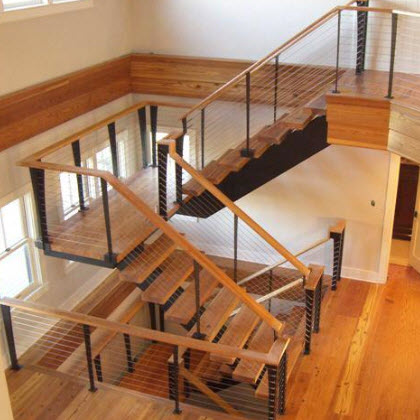 Location: Nantucket, MA
Builder: Chris Oconnell Construction Corp – Nantucket, MA
Architect: S.M. Roethke Design, Inc. – Nantucket, MA
Material and Finish: "Raven Black" powder-coated steel railing posts with wood top rail.
Description: Custom cable railing design with posts that have an upside-down taper.
Notes:
For our client in Nantucket, Massachusetts we made a completely custom cable railing system for their U-shaped staircase that climbs three stories. The steel railing posts have an upside-down taper meaning they grow wider toward the top. Each post connects to the stair's heavy wood treads with a C-style flange. To match the treads, the railing system has a flat wood top rail.
Request A Quote
Custom Cable Railing