Interior Multi-Story Stairs – Nantucket, Massachusetts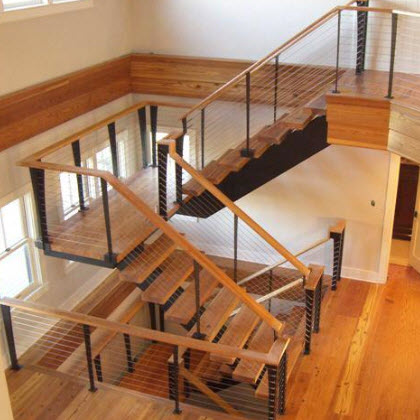 Location: Nantucket, MA
Builder: Chris Oconnell Construction Corp – Nantucket, MA
Architect: S.M. Roethke Design, Inc. – Nantucket, MA
Material and Finish: "Raven Black" powder-coated steel railing posts with wood top rail.
Description: Custom cable railing design with posts that have an upside-down taper.
Notes:
Our client in Nantucket, Massachusetts had an existing U-shaped staircase spanning three stories. Because of the home's open-concept architecture and ample light, the homeowner wanted not only open risers on the stairs but also a railing system with a similarly unbarred design. To achieve this look, the decided on cable infill for their railing system.
Furthermore, the client wanted a specific slim design for the railing posts. They requested that each post have an upside-down taper, meaning they get wider toward the top where they attach to the top rail. At the bottom, each post connects to a stair tread with a C-style flange.
To match the architecture of the house interior and the existing staircase, the homeowner chose a "Raven Black" powder coat for the railing posts. Like the stair stringer, the posts are steel. Much of the home has light wood incorporated in its design. For example, the flooring, structural beams, and thick stair treads are all made from wood with a light hue. To incorporate the material into the railing system, we designed a light wood top rail with a flat rectangular shape. As you can see in the accompanying photos, the railing system and staircase have a cohesive look that fits in seamlessly with the home interior.
Request A Quote
Custom Iron