Rustic Stair Railing System with Custom Posts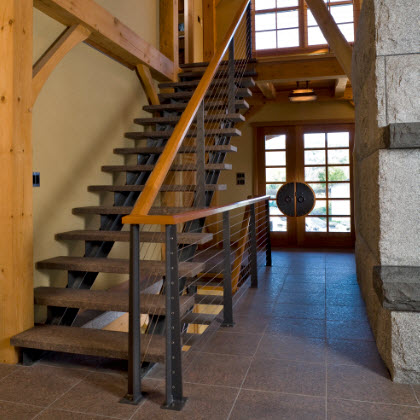 Location: Taftsville, VT
Builder: GR Porter and Sons- Norwitch, VT
Architect: Haynes & Garthwaite Architects - Norwich VT
Material and Finish: "Dazzling Pewter" powder-coated steel posts with a wood top rail.
Description: Custom cable railing system with tapered posts for two rustic staircases.
Notes:
Keuka Studios designed and fabricated this rustic stair railing system for a home in Taftsville, Vermont. When Haynes & Garthwaite Architects approached us about this project, they asked for a completely custom cable railing. The homeowners wanted a system that would fit perfectly with the farmhouse aesthetic of the residence. Their unique home features exposed timber beams, concrete pillars, and stone flooring. To match, the homeowners requested a stair railing with open cable infill and hefty posts.

In order to achieve this look, our team designed triangular steel railing posts. The rustic-style posts taper toward the handrail at the top. For the handrail, the homeowners chose a light wood that matches the home's timber frame. Furthermore, they selected a "Dazzling Powter" powder coat for the posts that contrasts the top rail but complements the granite stair treads, concrete column, and dark stone floor.

We designed the rustic stair railing for two flights of floating staircases in the main entryway of the home. The three-story home entrance includes floor-to-ceiling glass doors and windows. In combination with the open-riser staircases, the railing system maintains the openness of the entryway. Our team crafted the railing with 1/8″ stainless steel cable infills. The thinness of the cable and space between each infill creates transparency and allows the passage of light that comes in through the large windows. Because the stairs and railing system extend across three stories, the light spreads throughout the majority of the home.
Interested in our custom railing designs? You can take a look at a few of our custom cable and glass railing systems here. Or, contact us for more information.
Request A Quote
Custom Metal Stairs