Floating Mono Stringer Stair, Patio Railing — Shelter Island, NY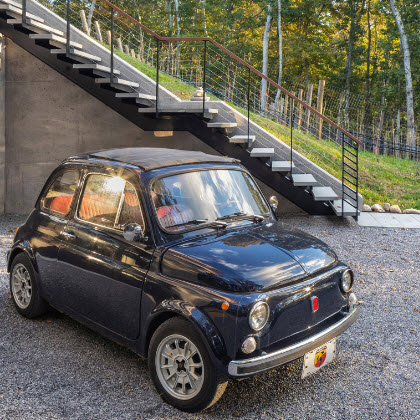 Location: Shelter Island, NY
Architect: Vibeke Lichten — New York, NY
Material and Finish: Steel offset floating mono stringer stairs with cable railing, IPE top rail, and stone treads. The unique patio railing posts are made of powder-coated steel to match the aesthetic of the home. The cables and fittings are 316 stainless steel.
Description: Custom offset mono stringer floating stair with custom railing posts, stone treads, and an IPE top rail. The patio railing has custom-designed railing posts to match the style of the home.

Notes:
We worked with architect Vibeke Lichten to design a unique patio railing and an offset cantilever-stringer stair for this concrete home in Shelter Island, NY. Known as the "Eco House," it was designed with the environment in mind. One of the goals of the home construction was to leave a minimal carbon footprint. Because the client wanted to maintain the stunning views of the Peconic River from their patio, Keuka Studios custom designed the cable railing with this in mind. The railing complements the home's architectural style and has a custom color to match the home's exterior accents. We also designed a steel mono stringer staircase that leads from the pool courtyard area to the lower-level driveway.
Leading from the pool courtyard area to the lower level driveway we made a steel mono-stringer staircase. This offset mono stringer stair has stone treads and leads from the lower-level driveway to the upper-level pool house and pool patio.
Photos by Evan Joseph.
Request A Quote
Custom Metal Stairs