Custom Cable Railing – Turks and Caicos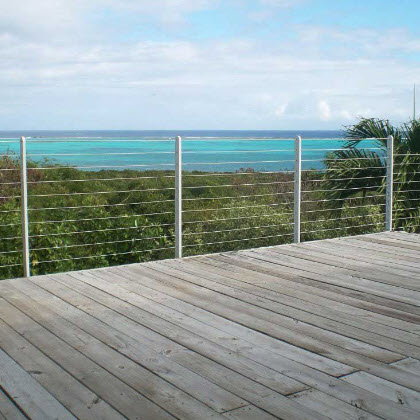 Location: Turks and Caicos
Material and Finish: White powder-coated aluminum posts with no top rail.
Description: Custom cable railing with no top rail.
Notes:
This property in Turks and Caicos has direct access to the beach and a breathtaking view of the cerulean water. To maximize the impressive view from their deck, our client requested a custom cable railing system without a top rail.
Typically, the top rail provides crucial support for a railing system. (Within the U.S., municipal building codes require a top rail for structures that need a guard.) To create a safe cable railing system without a top rail, we designed custom attachments with extended mounting plates. We custom designed and CNC machined aluminum posts to be able to bear the cable loads without a top rail. To protect the posts from the corrosion that happens over time in a saltwater environment, we had them finished with a super-durable white powder coat.      
Request A Quote