Iron Stair Railing – Lake Placid, New York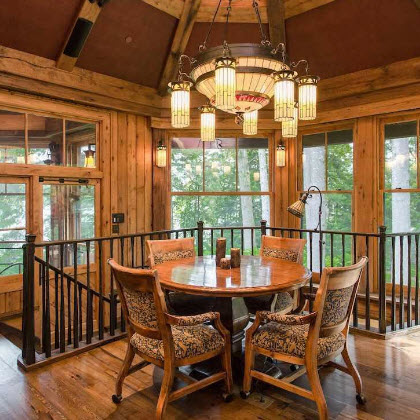 Location: Lake Placid, NY
Material and Finish: Iron railing with a blackened steel and wax finish.
Description: Hand-forged iron stair railing with a heavily textured custom finish.
Notes:
The Adirondack Mountains in upstate New York have some of the most incredible views in the Northeast. With many lakes and high peaks, the region is the perfect getaway for anyone who loves hiking and the great outdoors. In the area, most homes and cabins have a rustic feel to match their natural surroundings. Our clients in Lake Placid own a luxurious summer home with incredible views and direct access to the Mirror Lake shoreline. The architecture of the home uses an abundance of natural materials on the inside and out. For example, the home interior features a stone fireplace, granite countertops, wood paneling, and vaulted ceilings with exposed timber beams. It also has hardwood, stone, and slate tile floors throughout. With countless amenities (for example, a glass elevator), the home was named the Wall Street Journal House of the Year in 2017. The home also features our custom ironwork.
Hand-Forged Iron Stair Railing:
One part of the spacious home is entirely dedicated to entertainment. In one room there's a pool table, bar top, and an entertainment system next to the massive stone fireplace. A staircase connects this room to a lower-level game room complete with a ping pong table, foosball table, and vintage arcade games. Keuka Studios designed a custom railing system for the staircase that connects these two entertainment spaces and the balcony created by the wide stair opening. The homeowners wanted a completely custom railing that would fit the rustic yet luxurious aesthetic of the home. To achieve this look and to match the stone flooring on the lower level, our clients chose an iron stair railing.
With great attention to detail, our team hand forged the iron railing. The spindles have a tapered design on both ends, meaning the middle is the slimmest part of each bar. We designed the railing to follow the gentle curve of the staircase and to transition into the balcony guard. We also crafted an iron handrail for the side of the staircase that hugs the wall. To give the railing system a heavily textured appearance, we used a blackened steel and wax finish.
Request A Quote
Custom Iron