Vertical Cable Railing – Canandaigua, New York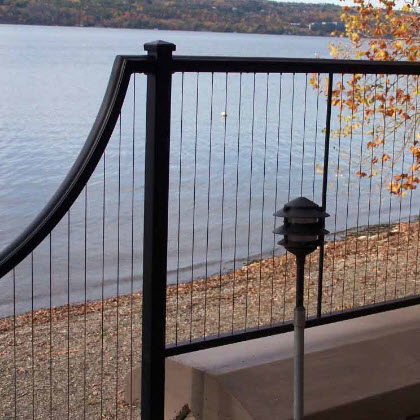 Location: Canandaigua, NY
Material and Finish: "Raven Black" powder-coated steel posts with a custom metal top rail.
Description: Custom vertical cable railing mounted on concrete retaining wall.
Notes:
This outdoor living area overlooks the beautiful Canandaigua Lake. We fabricated this powder-coated steel vertical cable railing using a two-piece top rail which conceals the cable fasteners. The top rail has a flowing harp-like design that adds an interesting transition to the retaining wall as it continues down the grade. Custom designed with a top rail that flows with the landscape along the pathway to the beach.  The cable railing system wraps around a sitting area that overlooks the lake views.
Request A Quote
Custom Iron