Cherry Staircase Cable Railing – Delavan, WI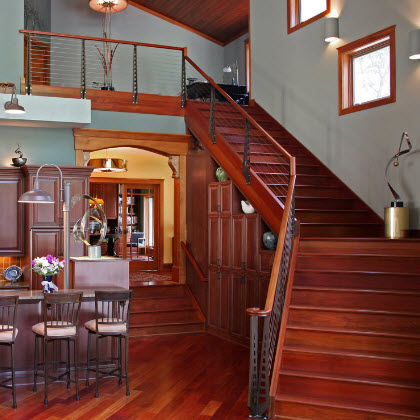 Location: Delavan, WI
Builder: Stebnitz Builders — Elkhorn, WI
Material and Finish: "Oil-Rubbed Bronze" powder-coated steel posts with wood top rail.
Description: A Chicago Style cable railing system with a custom newel post for a traditional staircase.
Notes:
This home in Delavan, Wisconsin has a beautiful kitchen with cherry floors and cabinetry. The kitchen has a warm atmosphere and a traditional style. It features high ceilings and on one side has a winder staircase that leads to an upper-level balcony.
Staircase Cable Railing System:
Keuka Studios designed and fabricated this railing system for the grand winder staircase in our client's kitchen. The cherry staircase has a sophisticated feel and the homeowners wanted a railing system that would complement the room's traditional style. At the same time, they wanted to bring in some more modern elements. Our team of engineers designed a custom cable railing that matches the interior design scheme while adding a bit of contemporary flair.
The railing system features our Chicago Style posts. Compared to our clean-lined Ithaca Style posts, these posts are more ornate and angular. The post style pairs nicely with the angled winder staircase. We constructed the posts with "Oil-Rubbed Bronze" powder-coated steel.
For the newel post at the bottom of the staircase, we came up with a one-of-a-kind design. The newel post is composed of three individual Chicago Style posts facing one another. Together, they create the appearance of a single column topped by the curved termination of the top rail.
The wood top rail matches the vibrant cherry wood used across the kitchen. Its rounded profile and circular termination add to the overall elegance of the staircase.
Our Type 316 stainless steel cable infills bring the modern feel to the railing that the homeowners envisioned. Furthermore, the space between each cable maintains the openness of the large, high-ceiling kitchen. This allows the sunlight that comes in through the windows to brighten the entire room.
Request A Quote
Chicago Style Cable Railing