Balcony Rail for University Atrium – Pryor Creek, OK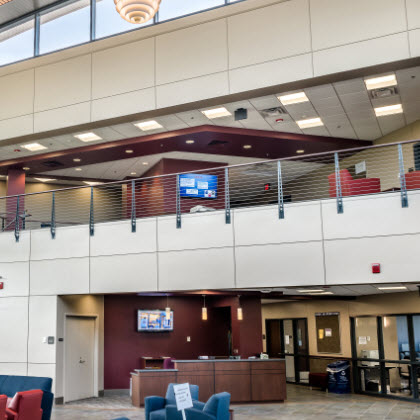 Location: Pryor Creek, OK
Builder: Lowry & Hemphill Construction — Tulsa, OK
Architect: Dewberry Architects — Tulsa, OK
Material and Finish: "Dazzling Pewter" powder-coated steel posts with wood top rail.
Description: A Chicago Style balcony rail for the interior of a building at Rogers State University's Pryor Creek campus.
Notes:
In 2012, Rogers State University expanded and added a campus in Pryor Creek, Oklahoma. The project managers planned a spacious atrium that also serves as a lounge where students can gather and unwind between classes. Designed by Dewberry Architects, the open two-story lobby has high ceilings and a large staircase that leads to an upper-level balcony. The atrium also features floor-to-ceiling windows that provide ample natural lighting to the open-concept space.
Staircase and Balcony Rail Design:
Keuka Studios designed and built a cable railing system for the atrium's staircase and balcony. The railing system has "Dazzling Pewter" powder-coated steel posts in our Chicago Style. This post design features clean cutouts and angular projections that give the railing an industrial and streamlined appearance. In compliance with commercial building code, each post has a height of 42″. As with all of our commercial cable railing projects, we used 3/16″ thick stainless steel cable infills for both the stairs and balcony.

Our clients chose wood for the railing's top rail and graspable handrails. Wood rails are soft to the touch, making them perfect for staircases and balconies. The dark hue of the wood species chosen matches perfectly with the deep red accent color used throughout the atrium. Details like this give the atrium a cohesive look and a warm atmosphere despite its immense size.
Request A Quote
Chicago Style Cable Railing