Cable Railing Projects on the Finger Lakes
Keuka Studios has had the pleasure of producing many Finger Lakes railing systems over the years. While we travel often to job sites across the U.S. and the Caribbean, we take special pride in crafting cable railings for our home region. Oftentimes, these local projects are for lake house decks that directly overlook one of the eleven Finger Lakes. We always enjoy helping clients to optimize the gorgeous natural views from their property with a cable railing system. For lakefront deck design ideas, take a look at a few railing systems our team has designed for clients in the Finger Lakes region:
1. Cayuga Lake – Lodge at Cornell University
The Noyes Lodge at Cornell University overlooks Beebe Lake, an offshoot of Cayuga Lake on its south side. Our team designed a cable railing system for the lodge's deck that faces the water. The railing features passivated and polished stainless steel posts and a wood top rail. Our Ithaca Style cable railing design is simple and unobtrusive, allowing the natural view to remain the focus of the outdoor lounge area.
2. Canandaigua Lake – Vertical Cable Railing
For this lakefront home in Canandaigua, New York, we crafted a custom vertical cable railing system. Popular for pool fencing, vertical cable infill creates a protective barrier while preserving the view through the railing or fence. This railing features "Raven Black" powder-coated steel posts. Our team also designed a custom top rail that conceals the cable fasteners.
3. Keuka Lake – Lake House Deck
This rustic lake house sits directly on Keuka Lake, the namesake of our business. The home, designed and built by New Energy Works, features a wood deck with a staircase that leads right to a private dock. For the deck and stairs, Keuka Studios designed a cable railing system with black powder-coated steel posts and a thick wood top rail.
4. Seneca Lake – Curved Cable Railing Deck
When the owners of this lake house, originally built in the 1960s, decided to renovate, they turned to Schickel Construction for the job. One major goal for the renovation was to bring the lakefront deck up to date while preserving the view. Our team crafted a curved Keuka Style cable railing for the wood deck with stone columns. To match the natural aesthetic of the deck, we designed the railing with black powder-coated steel posts and a wood top rail. Keuka Studios also built a cable railing system for a stone exterior staircase.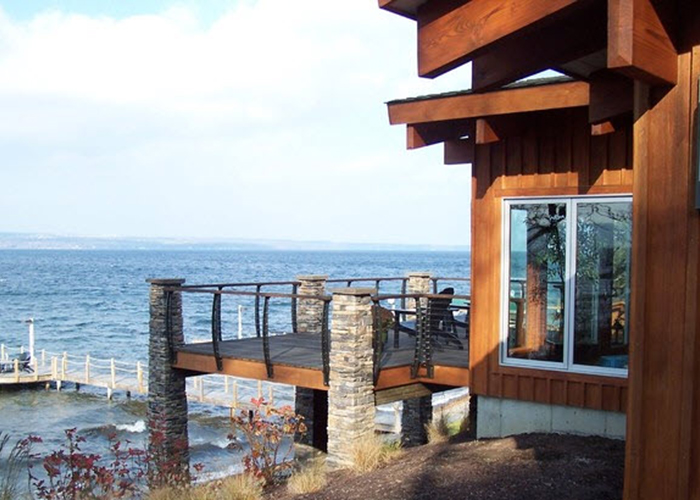 Every Keuka Studios design project is custom built for your space. To learn more about how each cable railing project moves from vision to reality, take a look at our custom railing design process. We take pride in building craftsman-quality and commercial-grade railings for interior and exterior applications.