Lake View Cable Railing For a Deck – Watkins Glen, New York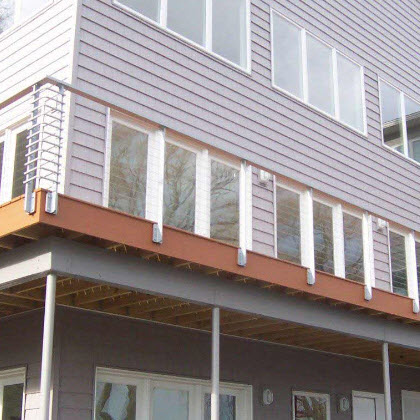 Location: Watkins Glen, NY
Builder: Target Builders — Watkins Glen, NY
Material and Finish: "Sparkle Silver" powder-coated steel posts with aluminum top rail.
Description: Our Tokyo Style cable railing system features sharp lines and offers a sleek profile. This functional yet modern cable railing system embraces influences from Asian-inspired architecture. The corner post is unique with parallel horizontal bars.
Notes:
This home in Watkins Glen, New York sits directly on Seneca Lake. Our client chose the Tokyo Style cable railing for their deck to maximizes the impressive view from the second-story.  The Tokyo Style cable railing system has slim lines with unique end and corner posts that feature parallel square bars to add a touch of Asian style to the design. The posts are fascia or front-mounted to the deck thus hiding the hardware and mounting plates from view resulting in clean simple lines.  They chose "Sparkle Silver" powder-coated post to complement the home's light colors and accents. The top rail is rectangle aluminum with a matching powder coat color.
Request A Quote
Tokyo Style Cable Railing