Stainless Cable Railing Octagon Deck – McLean, Virginia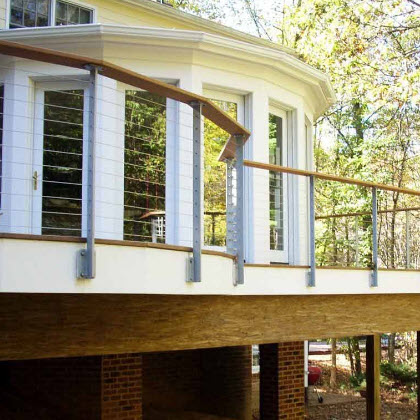 Location: McLean, VA
Builder: Bowers Design Build – McLean, VA
Architect: Bowers Design Build – McLean, VA
Material and Finish: "Sparkle Silver" powder-coated steel posts fascia mounted with wood top rail and stainless cable wire rope infill.
Description: Tokyo Style cable railing with slim powder-coated steel posts.
Notes:
We worked with Bowers Design Build to design a stainless cable railing system for the deck of this Virginia home. The octagon-shaped deck adds a contemporary element to the home's exterior and still matches the original architecture. Our client opted for our Tokyo Style cable railing design with "sparkle silver" powder-coated steel posts designed to be fascia mounted.  Choosing fascia or front style of mounting results in the deck having more space for relaxing or dining. With the mounting plate and hardware on the front of the deck, it is not visible from the interior of the home giving the posts a more streamlined appearance.  The infill of the railing system is type 316 stainless steel cable with stainless cable fittings. Our Tokyo style railing posts have slim intermediate posts that accent the home and will not distract from the view. The posts have a square bar motif on the end posts and corner posts that add an Asian flair.
Request A Quote
Tokyo Style Cable Railing