Custom Railing – British Virgin Islands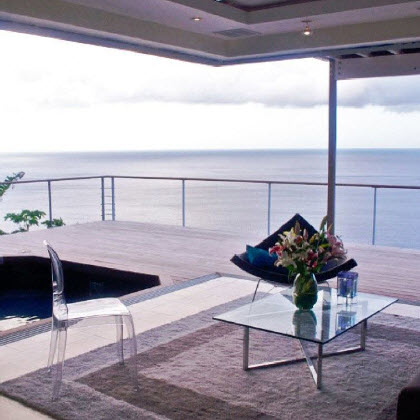 Location: Tortola, British Virgin Islands
Architect: OBMI International – Coral Gables, FL
Material and Finish: Clear anodized aluminum posts with IPE Brazilian walnut wood top rail.
Description: Custom railing system for an oceanfront deck and a custom cable guard for an interior staircase.
Notes:
This custom home, designed by OBMI Architecture, boasts incredible views of the Caribbean Sea. Built between trees in a forested hillside, the residence was carefully designed to minimize its impact on the environment. The 2,200-square-foot home fuses indoor and outdoor living. For example, floor-to-ceiling sliding glass doors separate the main room and the deck. Keuka Studios designed a nearly-transparent cable railing system for the deck, allowing for open ocean views from within the house.
Oceanfront Deck Custom Railing:
The British Virgin Islands have different building codes than the United States. These codes gave us a bit more freedom when designing the deck railing system. We took our standard Tokyo Style design and customized it to our client's specifications. Compared to our typical residential railing systems, this custom railing has more space between each vertical railing post. It also has more space between each horizontal cable infill. These modifications give the railing even greater transparency than our standard design, allowing for uninterrupted panoramic views of the sea.

For the railing posts, the homeowners chose clear anodized aluminum. The process of anodizing gives the aluminum greater resistance to corrosion. Our clients chose IPE, a naturally durable wood species, for the top rail.
Vertical Cables for Freestanding Stairs:
The home interior features a freestanding wood staircase. Without any supports beneath the treads, the stairs appear to float. The homeowners chose this design in order to create a free-flowing, open space.

To add visual intrigue, the homeowners asked us to design a custom guard for the open side of the staircase. The local building codes permitted us to craft the guard from just stainless steel cable infills. To create a barrier, we lined up a row of cables that extend vertically from the floor to the ceiling. Each cable runs through the outer edge of a stair tread, forming a cable "wall" that encloses the stairs.
Request A Quote
Tokyo Style Cable Railing