Modern Prairie Style Stair Railings – Avondale Estates, CA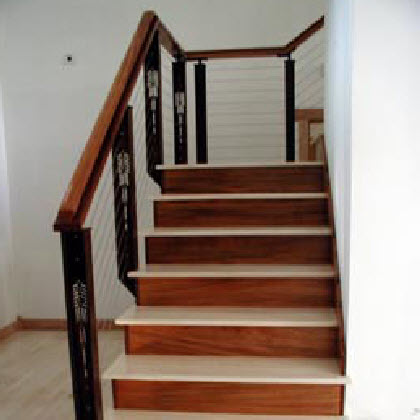 Location: Avondale Estates, CA
Material and Finish: Steel posts with a hand-applied rust patina and cherry wood top rail with graspable handrail.
Description: This unique modern "Prairie Style" stair railing is made with steel that is cut-out with a "Praire Style" herringbone motif. The railing infill is 316 stainless steel cables and fittings for an indoor staircase railing.
Notes:
We fabricated our Prairie Style cable railing for an L-shaped staircase and designed it to complement the architectural style known as "Prairie Style".  This style is commonly described as Western architecture which typically has low lying rooflines, and is generally a two-story structure with single-story wings. The railing posts have a unique standoff on each post that attaches to the wood top rail. To accomplish the industrial Prairie style aesthetic the posts have a structural steel I-beam appearance with a herringbone cut-out designed into each post. The posts are custom made to be fascia-mounted and have a hand-applied rust patina with a cherry wood top rail. The top rail is unique with a graspable cherry handrail running along the top rail of the staircase railing.  This home interior design is reminiscent of the Prairie style and works perfectly with our Prairie style cable railing system.
Request A Quote
Prairie Style Cable Railing