Prairie Style Loft Cable Railing – Laconia, NH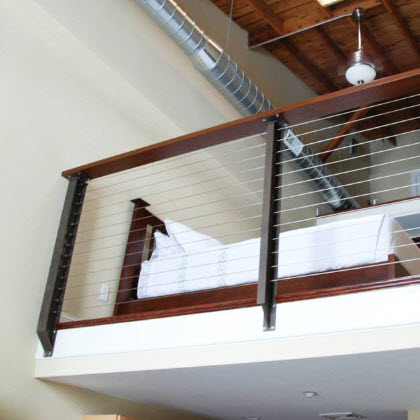 Location: Laconia, NH
Material and Finish: "Oil-Rubbed Bronze" powder-coated steel posts with wood top rail.
Description: Our Prairie Style cable railing fascia or front-mounted on an indoor loft.
Notes:
This interior loft needed a transparent cable railing to keep the open feel of the main living area. Our Prairie Style cable railing posts have a herringbone-patterned motif that gives the loft an artistic or craftsman look. The railing posts are structured to mimic an I-beam giving it an industrial-chic appearance.  The design complements the high ceilings and open ductwork of the upper-level lofts open ceiling.  The posts are powder coated "Oil Rubbed Bronze" and fascia mounted as seen from the lower level, with a wood top rail.  The railing infill is 316 stainless steel cables and fittings.  Our designers work with our clients to create indoor railing systems that work with their desired aesthetic, style, colors and materials.
Request A Quote
Prairie Style Cable Railing