Industrial Style Cable Railing – Perham, MN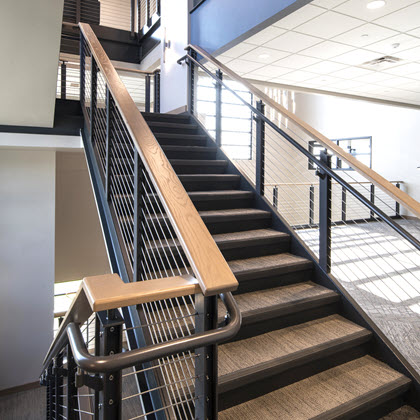 Location: Perham, Minnesota
Builder: Hammers Construction
Architect: Bhhh Partners
Material and Finish: Our Keuka Studios Prairie Style railing system made of steel with stainless steel cables and fittings. Including ADA handrails on the stairs with a wide wood top rail on the interior. The exterior deck railing posts match the style of the interior railing with a powder-coated aluminum top rail.
Description: The railing chosen for this office space is our Prairie Style without the motif cut-out resulting in an I-beam appearance. It is made of steel and powder-coated a custom color (Zombie Grey by Prismatic Powders). The posts were designed and fabricated to be surface mounted to the c-channel stairs stringer and surface mounted to the balconies.
Notes:
KLN Family Brands' new headquarters in Perham, Minnesota includes a multi-level atrium with our cable railing system on the balconies, stairs, and exterior decks. The combination of wood accents with steel finishes and vibrant colors create an inspiring work environment. The Architects at Bhh Partners, with the builder Hammers Construction and Interior Designer at Theisen Design Studios artfully combined their craftsmanship with a vision that resulted in excellence. The railing system they chose is our Prairie Style without the motif, giving it a steel I-Beam look with straight lines and an industrial edge. The railing system is made of steel, and powder-coated with a custom color to match the interior and exterior finishes. It is fascia and surface mounted to accommodate the stair and balcony designs. The interior stair railing system includes ADA handrails with a wide wood top rail. The exterior deck railings were made with an aluminum top rail powder-coated to match the railing system.
Photography by Scott Amundson
Request A Quote
Prairie Style Cable Railing