Interior Staircase and Loft – Bunker Hill, Ohio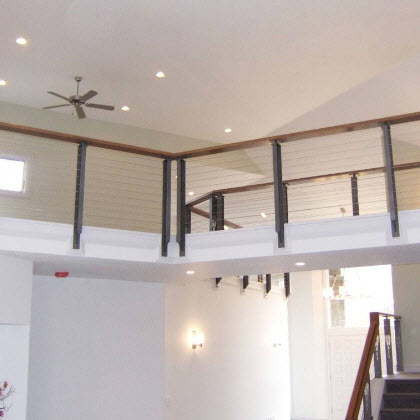 Location: Bunker Hill, OH
Builder: JRM Custom Carpentry – North Royalton, OH
Material and Finish: "Dazzling Pewter" powder-coated steel posts with wood top rail.
Description: A complete Prairie Style cable railing system for a home interior.
Notes:
For this project, we worked with JRM Custom Carpentry on the interior of a home in Bunker Hill, Ohio. The home features a large, open-concept great room connected to the kitchen and an upper-level balcony and catwalk. High ceilings and expansive windows make the space feel bright and open.
Prairie Style Cable Railing System:
This home interior features a U-shaped staircase, a catwalk, and large upper-level balconies, all visible from the main entryway. In order to unify the entire space, the homeowners wanted a consistent railing design all throughout. They chose our Praire Style posts for the complete railing system. This signature Keuka Studios post style features an ornate herringbone pattern in the center of each post. Our clients selected this design to add some finer details to the expansive space.
When customizing their railing, the homeowners chose materials that accent other elements of the home interior. The steel posts have a "Dazzling Pewter" powder coat that complements the grey carpeting. Similarly, the wood top rail matches the kitchen cabinetry and island. For the top rail, our clients wanted a custom profile just for the stair railing to increase graspability. This section of the top rail has an added rounded portion on top that creates a groove. The rounded top is easy to hold on to while ascending or descending the stairs.
While the railing style and materials are consistent throughout the interior, we modified the post height and attachment type for the different sections of the railing system. While the balcony and catwalk railing posts are fascia mounted, the stair railing posts are surface mounted. We also designed the stair railing posts at custom heights to fit the existing staircase structure.
Request A Quote
Prairie Style Cable Railing