River Walk – New Hope, PA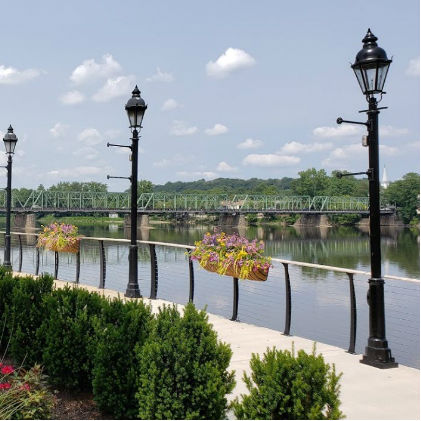 Location: New Hope, PA
Builder: J.R. Maxwel Builders – Doylestown, PA
Architect: Mills and Schnoering Architects LLC – Princeton, NJ
Material and Finish: "Raven Black" powder-coated steel posts with wood top rail.
Description: Keuka Style curved cable railing system made to commercial requirements at 42-inch height.
Notes:
The beloved Bucks County Playhouse in New Hope, Pennsylvania is well known for its theatrical productions and musicals. Many famous Broadway artists made their debuts there. When it fell into disrepair the owners wanted to restore it to its original grandeur while updating the infrastructure.  They looked to ways to improve the overall experience by including an outdoor bar and patio and updating the promenade along the Delaware River. Maxwell Builders was chosen to restore the playhouse and one requirement was to include a railing system for the exterior patio and riverwalk that would preserve the view of the river. Keuka Studios designed and fabricated a Keuka Style railing with "Matte Black" powder-coated steel posts and a wood top rail. It was an honor for us to work on such an important historical theater.
Request A Quote
Keuka Style Cable Railing