Cable and Lexan Railing System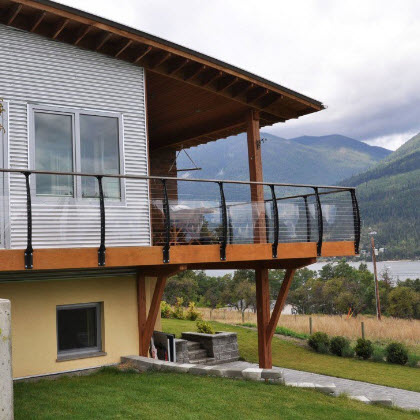 Location: Nelson, British Columbia
Builder: Fullhaus Contracting Ltd. — Creston, British Columbia
Material and Finish: "Raven Black" powder-coated steel posts, stainless steel cable infills, Lexan glass-like panels, and a wood top rail.
Description: This Keuka Style deck railing features both stainless steel cable and transparent Lexan railing infills.
Notes:
This residence in Nelson, British Columbia is surrounded by breathtaking natural beauty. It sits just feet away from the shore of Kootenay Lake. On the opposite side of the lake is the base of Mount Grohman, a mountain range with a 7,149-foot peak. When it came to designing a deck for the home, the owners made it a priority to not obstruct this incredible vista.
Cable and Lexan Railing:
Keuka Studios worked with Fullhaus Contracting to craft a custom railing system for the home's lakefront deck. The homeowners wanted a railing with near-transparency that would complement the home's rustic appearance. To achieve this look, they chose our Keuka Style railing design. The curved posts match the slight curve in the roofing. Furthermore, the homeowners wanted the railing to couple well with their corrugated metal siding. They chose "Raven Black" powder-coated steel for the posts in order to create a correlating industrial look. For the top rail, the homeowners opted for a light wood that matches the decking, exposed timber beams, and cedar siding. Most importantly, the top rail's flat profile minimizes the disruption of the view from the deck.

Correspondingly, the homeowners wanted the railing's infill to be as transparent as possible without sacrificing durability. For this purpose, they decided on 1/8″ thick stainless steel cable infill. To adhere to local building codes, we designed the railing to include polycarbonate panels, often referred to as Lexan. We crafted metal plates for the back of the railing posts that accept the thin, glass-like infill panels.
Request A Quote
Keuka Style Cable Railing