Curved Pedestrian Bridge Railings – North Charleston, SC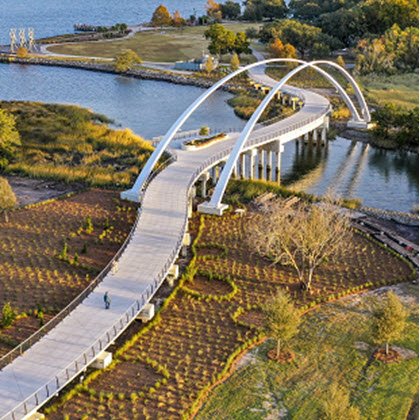 Location: North Charleston, SC
Builder: Cape Romain Contractors
Architect: Thomas & Hutton
Material and Finish: The posts are made of solid steel, galvanized, and powder-coated "oil-rubbed bronze". The cables are 3/16 in diameter and made of 316ss.
Description: The signature Keuka Style curved cable railing system was a natural cohice for this bridge project since the curves of the posts complement the curves of the architecture. The posts are made to a 42 in height and are surface mounted to the walkway and viewing platform.
Notes:
Designed by Thomas & Hutton, the Noisette Creek bridge in North Charleston, SC  has been named by Architectural Digest as one of the 11 most beautiful elevated walkways through nature in the entire world. The meandering bridge was constructed as a place for people to enjoy the natural environment and the expansive water views while providing additional pedestrian access to the Riverfront Park. The curved pedestrian bridge includes a viewing platform at the midpoint across the bridge with a unique curved planter and bench. The enormous arches are made of steel and were assembled from massive pieces weighing between 10 and 20 tons. The arches and bridge include colored LED lighting that illuminates them at night, lighting the way and providing a distinctive atmosphere. The client chose our signature Keuka Style cable railing system for this pedestrian bridge project at 42 in height. We worked with Cape Romaine Contractors who are known as a premier highway bridge and marine contractor in South Carolina. When the site was ready we measured the bridge using our Faro laser scanner. This allowed us to create an accurate 3d model of the bridge in order to design and fabricate the railing system to fit perfectly.
Photography by: Michael Worthington Images
Request A Quote
Keuka Style Cable Railing