Woodward Airframe Monumental Stair and Cable Railing – Niles, IL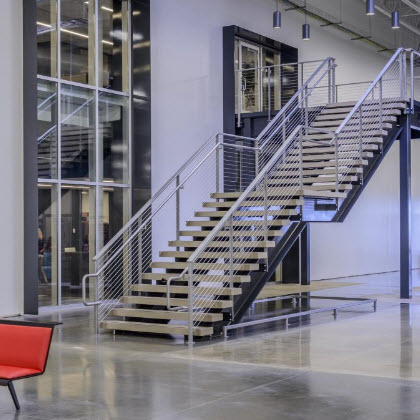 Location: Niles, IL
Builder: Ralph H. Simpson Company — Elmhurst, Illinois
Architect: Ghafari Associates — Chicago, Illinois
Material and Finish: Black painted steel stair stringers, concrete stair treads, powder-coated steel railing posts, and a powder-coated aluminum top rail.
Description: Monumental staircases with ADA-compliant Ithaca Style railing.
Notes:
Woodward Airframe recently opened a facility in Niles, Illinois. Keuka Studios designed and built two staircases for the facility: a monumental entry staircase and a floating monumental stair that leads to the workshop. Both staircases include stainless steel cable railing systems that illustrate the company's commitment to innovation and functionality.
The entry staircase sits in front of a large window panel in the facility's main hallway. Its central location makes it the architectural focal point of the facility, so the architects wanted to make sure it would have a seamless design. Furthermore, they didn't want the staircase to obstruct the natural light coming in through the windows. 
To achieve these goals, our team designed a floating staircase with cable railing. The open risers and the transparency of the railing system allow for the passage of light through the stairs. They also give the entryway a modern, industrial feel. The staircase features steel double stringers and concrete treads. For the cable railing, we used "Sparkling Silver" powder-coated steel posts and an aluminum top rail. In accordance with commercial building codes, the posts are 42" high and the stainless steel cable infills have a 3/16" diameter.  
We designed the shop staircase with powder-coated steel posts that extend through the cement stair treads, giving the stairs an eye-catching appearance. The tread spacing allows more light to pass through the structure and the cement contrasts the silver powder-coated steel posts. For the top rail, we used "Sparkle Silver" powder-coated aluminum tubing with a rectangular profile. The handrail is ADA-compliant meaning it meets the graspability regulations of the Americans with Disabilities Act. The handrail sits 6" below the top rail and runs along the entire length of the stairs. It extends 12" inches past the first and last step.
Woodward Airframe develops energy management systems for the aerospace and industrial sectors. They focus on designing top-performing, low-emission, and fuel-efficient systems for their clients. The company has a long history, starting in 1870 in Rockford, Illinois. Their first invention, created by Amos W. Woodward, was a non-compensating mechanical water wheel governor. As new technology developed, Woodward Airframe stayed on the cutting edge of innovation. Today, the corporation has offices in 15 countries and supplies many essential components for aerospace and industrial machines.
Request A Quote
Ithaca Style Cable Railing