Mohegan Sun Casino Cable Railings – Uncasville, CT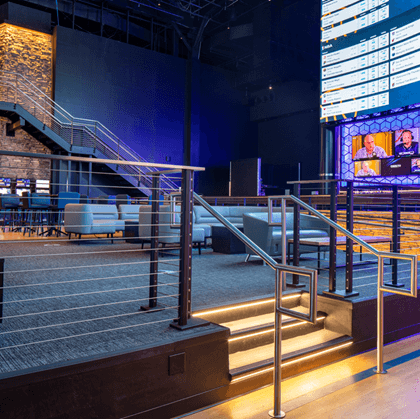 Location: Uncasville, CT
Builder: The Berlin Steel Construction Co.
Material and Finish: This project features our Ithaca-style cable railing posts at 42-inch height made from steel and powder coated "Raven Texture Black". The posts are surface mounted and include custom escutcheon plates. The top rails and handrails are brushed stainless steel. The 3/16 inch cables and fittings are made of 316 stainless steel.
Description: We expertly designed and fabricated a completely custom cable railing system for the sportsbook betting venue at the Mohegan Sun Casino. This project included railings for the pedestrian ramp with ADA compliant handrails, stanchion railings to separate various activity spaces, balcony railings, and stair railings.
Notes:
Located at Mohegan Sun Casino in Connecticut is the brand new Sportsbook venue. The ultimate location for sports betting with state-of-the-art technology. We were contacted by Berlin Steel to design and fabricate the railings for this project with a completion date in time for Super Bowl 2022. Having a tight timeline they reached out to us and we accepted the challenge to help them to the finish line.
The client chose our Ithaca-style cable railing system made to a 42-inch height with 3/16-inch cables as required for a commercial site. Custom height railings were crafted to mount on top of the half walls where required. The monumental stair cable railing system includes stainless steel ADA compliant handrails. The railing posts are powder-coated black and surface mounted with custom-made escutcheon plates to hide the hardware. The top rails and handrails are made of stainless steel. For the pedestrian ramp, we curved the hand railings and top rails to follow the curvilinear flow of the walls for easier transition to the lower level. To connect the handrails to the wall we provided custom-made handrail brackets.
Request A Quote
Ithaca Style Cable Railing