Stainless Steel Stair Railing – Long Bay, Antigua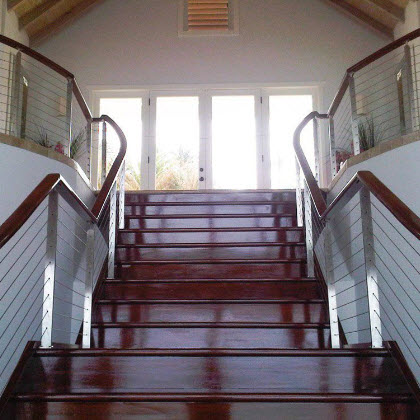 Location: Long Bay, Antigua
Builder: Horizons Construction Ltd. – Long Bay, Antigua
Material and Finish: Stainless steel posts with wood top rail.
Description: Stainless steel cable railings for a Caribbean villa.
Notes:
When designing railing systems for outdoor applications, we have to take into consideration the project site's natural environment. For oceanfront properties where salt permeates the air, we are careful to select building materials with natural corrosion resistance or to treat the materials with a corrosion-resistant coating.
In the Caribbean, many homes feature glass NanaWall or large doors and windows that open up an entire side of the house. These applications open up the view and let in the breeze, but they also allow salty air to pass into the home. Because of this, homeowners should also consider corrosion-resistant materials for their interior architecture.
The natural corrosion resistance of stainless steel makes it a perfect choice for railing systems within waterfront homes. For our client who owns a private villa in Long Bay, Antigua, we fabricated a railing with Type 316 stainless steel.
Working with Horizons Construction Ltd., we designed a stainless steel cable railing for the gracefully curved mahogany staircase in the entryway of this oceanfront home. Our clients chose our Ithaca Style railing for its clean and simple design. To allow for height variation in the handrail supports, we created a unique adjustable top post for the railing. This made it so a hand-carved handrail by a local craftsman could fit with the design. After we completed the railing system, the villa owner had the stairs finished with a clear varnish. This new coating gives the grand entrance to the villa a warm and fresh feel.  
Request A Quote
Ithaca Style Cable Railing