Stainless Steel Stair Railing – Long Bay, Antigua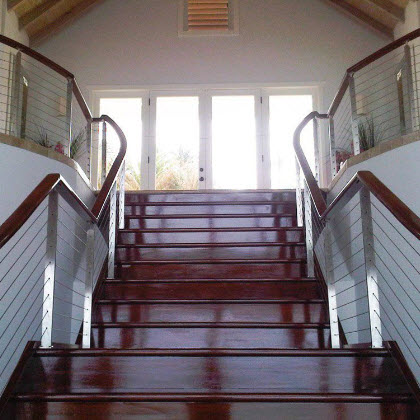 Location: Long Bay, Antigua - Cable Railing
Builder: Horizons Construction Ltd. – Long Bay, Antigua
Material and Finish: Stainless steel posts with wood top rail.
Description: Stainless cable railings for the Caribbean
Notes:
When building railings for the Caribbean, one of the top concerns other than beauty, is corrosion resistance. This is especially true when railings are to be part of an ocean front villa where salt permeates the air. Often these homes utilize Nanawalls or Liftslide doors that open up the entire side of the home to the ocean views and breezes . These ocean front ,open air concepts require careful selection of materials indoors as well as outdoors.
Stainless steel can be a great option for railings in the Caribbean as it has a natural resistance to corrosion. Type 316 stainless steel was chosen for this villa in Antigua (Pronounced ahn-TEE-gah). The villa, located near the St. James Club in Antigua has vast open views of the turquoise waters of the Caribbean. The customer wanted a sleek railing design that would not block this gorgeous view and would also stand up to the elements beautifully.
Working with Horizons Construction Ltd. of Antigua, we designed a stainless steel cable railing for the graciously curving mahogany stairs on this ocean front residence. Our Ithaca Style railing was chosen as the basis of this design for its clean simple lines. We created a unique adjustable top post to allow for some height variation in the handrail supports. This was important because the mahogany handrail rail was hand carved by local island craftsmen. After finishing the stairs with a clear varnish, the result is a ship like stair that blends beautifully with the clear waters beyond.
Request A Quote
Ithaca Style Cable Railing