Floating Stairs and Landing – Westhampton, NY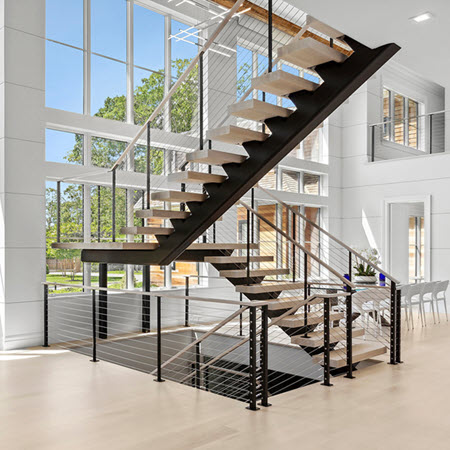 Location: Westhampton, NY
Builder: Messina Homes, LLC
Material and Finish: This mulit-level staircase features floating steps and landings crafted from white oak. The central stringers are steel and finished with a matte black powder coating. The railing is the Ithaca Style, characterized by slender posts with stainless steel cables and fittings. The railing posts are affixed to the surface of the treads and floor encompassing the entire staircase and balcony. The stair treads feature precise pockets designed to minimize the metal tread support plates.
Description: Tailor-made and crafted multi-tiered staircase featuring a single central support beam, complemented by a sleek cable railing system for both the stairs and the elevated balcony.
Notes:
An opulent residence recently constructed in Westhampton showcases a seamless, open-concept design. Its generous windows usher in copious amounts of natural light, creating an airy atmosphere. In accordance with the client's desire for a continuous sense of openness, a floating staircase was incorporated, devoid of any enclosing walls. To achieve this goal, we crafted a single-stringer steel staircase featuring open risers and white oak treads. For the stairs and balcony, they opted for the Ithaca-style cable railings, as they provide unobstructed views by seemingly vanishing from sight. The railing posts are surface mounted to the treads and flooring creating a seamless transition as they ascend the stairs and continue along the balcony.
Request A Quote
Ithaca Style Cable Railing