Bare Steel Mono-Stringer Stairs and Cable Railing – Philadelphia, PA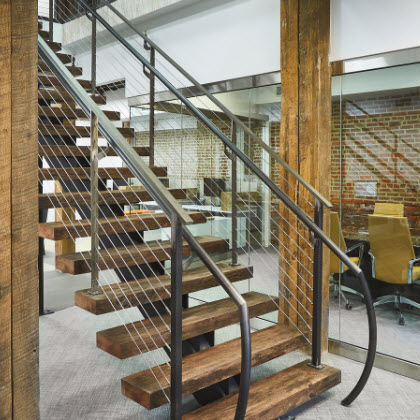 Location: Philadelphia, PA
Builder: Dave Heckler — Philadelphia, PA
Architect: Kelly Brennan and Karen Dellaporta of Baglivo Associates — East Norrinton, PA
Material and Finish: This staircase has reclaimed padauk wood treads and a single steel stringer. The stringer, steel railing posts, cable, top rail, and handrail all have a clear matte coat.

Description: A custom mono-stringer staircase with reclaimed wood treads. The staircase features a cable railing system with steel posts and a steel handrail with clear matte coating.
Notes:
Keuka Studios worked with Watchdog, a real estate firm to design and fabricate a floating staircase for the entrance of their Philadelphia headquarters. Before the remodel, the building had a traditional closed in entry staircase that led to the second level of the office building. The architect decided to open up this space and build a single floating staircase with cable railings to create an open modern industrial office aesthetic.
The company wanted its office to maintain its unpolished, natural style. To create a cohesive look, we took inspiration from the distressed timber columns around the work space. We designed a mono-stringer staircase with open risers and an Ithaca Style cable railing system. The stair treads are made of reclaimed padauk that once served as support beams in a factory. The steel used for the cable railing and stair stringer has a clear matte coating. This matte finish protects the metal while preserving the natural, straight-from-the-mill appearance of the steel. The bare steel handrail, which has visible shifts in the color, ends in a gentle curve toward the ground. For more commercial cable railing and stair ideas click here.
Request A Quote
Ithaca Style Cable Railing