Deck with Cable Railing System – Lockport, NY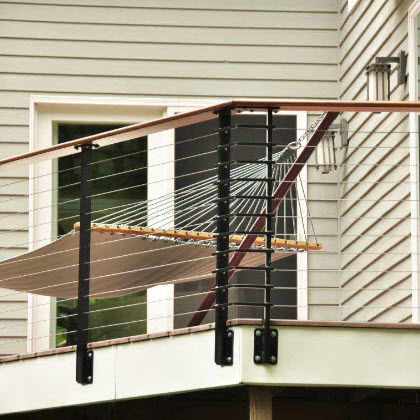 Location: Lockport, NY
Material and Finish: "Raven Black" powder-coated steel posts with wood top rail and stainless steel cable railing.
Description: Tokyo Style cable railing fascia mounted on deck.
Notes:
Our client in Lockport, New York wanted their deck railing to add a modern touch to their home's exterior and to preserve the woodland view. For their composite deck, our customer chose a fascia-mounted Tokyo Style cable railing with black powder-coated posts and a wood top rail. The Tokyo Style railing system has slim intermediate posts with a square bar design on the end and corner posts giving the cable railing system a modern design with an Asian flair. The dark-colored railing posts provide contrast to the home's exterior while blending into the wooded view beyond. To accommodate the composite decking material and allow for maximum space on the deck for relaxing in the hammock the posts were designed to be fascia or front-mounted.
Request A Quote
Tokyo Style Cable Railing