Mountain View Cable Railing Inspiration
A home tucked away high in the mountains that overlooks vast forest and valleys sounds like any nature lover's dream. With an organic mountain vista all around you, the architecture of your home shouldn't stand in the way of the view. Rather, it should enhance it. By installing cable railing on your deck or patio, you'll have both modern design and a natural, unobstructed view.
Keuka Studios has created cable railing systems for homes in the Adirondack Mountains of New York, the Rocky Mountains of Montana, the Berkshire Mountains of Massachusetts, and the Selkirk Mountains of British Columbia. If you need design inspiration for your mountain home, take a look at these cable railings we've designed for customers to maximize their aerial views.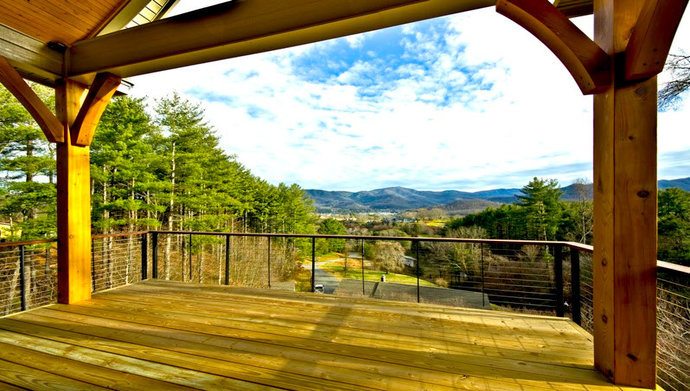 1. The Great Smoky Mountains, North Carolina
Located near Biltmore Lake, this mountain home with a large timber frame incorporates Keuka Studios Ithaca Style railing. The railing has "Raven Black" powder-coated steel posts and a Brazilian walnut top rail.
2. San Francisco, California
For our client in San Francisco, we designed a cable railing that preserves this amazing overlook if you're dining on the deck. The railing has a wood top rail and steel posts powder coated in "Raven Black."
3. Bear Mountain, California
Keuka Studios designed cable railing for a California home that looks out on Big Bear Lake. The home near the popular Bear Mountain ski resort features a concrete curved deck with our Keuka Style cable railing. The photo below is a close up of the railing's "Silver Vein" powder-coated steel posts and matching aluminum top rail.
4. Soquel, California

Our Ithaca Style cable railing preserves the view from this slate deck overlooking a California hillside. The railing features "Dazzling Pewter" powder-coated steel posts and a Brazilian walnut wood top rail.
Have questions about cable railing? Visit our website, www.keuka-studios.com. To discuss ordering and installing Keuka Studios cable railing, contact Jason White at Jason@keuka-studios.com or (585) 487-6148.
Read More