Floating Deck – Bloomfield Township, Michigan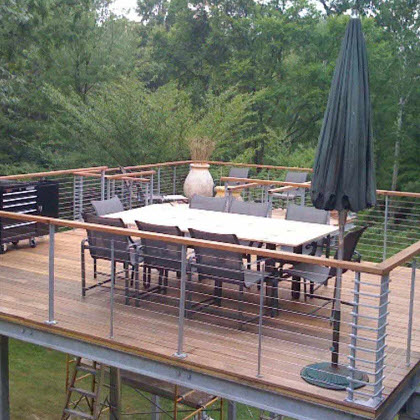 Location: Bloomfield Township, MI
Architect: David Masko Architect – Bloomfield Township, MI
Material and Finish: Hot-dip galvanized steel posts with IPE (Brazilian walnut) wood top rail.
Description: Tokyo Style cable railing.
Notes:
For their unique floating deck with a catwalk and panoramic views, our client wanted a cable railing system with a modern and industrial look. To match the deck's galvanized steel frame, we used galvanized steel for our Tokyo Style posts. Meanwhile, the IPE wood top rail matches the decking. The deck is perfect for outdoor dining and entertaining during the summer months.
Request A Quote
Tokyo Style Cable Railing