Timber Frame – Taftsville, Vermont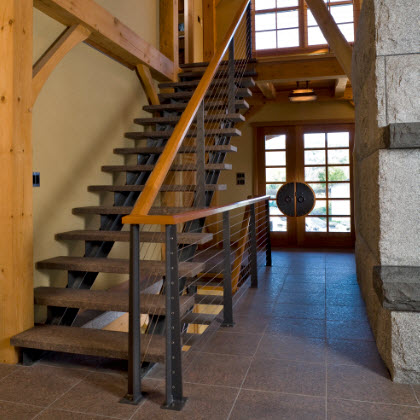 Location: Taftsville, Vt
Builder: GR Porter and Sons- Norwitch, VT
Architect: Haynes & Garthwaite Architects - Norwich VT
Material and Finish: "Dazzling Peweter" powder-coated steel posts with wood top rail.
Description: Custom style cable railing and custom floating staircase.
Notes:
Haynes & Garthwaite Architects approached us with a custom post design that they wanted made for a project in Norwich, Vermont. For a staircase railing system, they wanted triangular posts that tapered toward the top of the handrail. To match the home's exposed timber frame, they wanted the railing to have a hefty appearance. We used "Dazzling Pewter" powder-coated steel for the posts and wood for the top rail.
Request A Quote
Custom Cable Railing